The Good Wife Binge-Watch Guide: Season 7
A recap of the key episodes and important moments you need to know
Posted on May 10, 2016 | 11:25am
A popular legal and political drama,
The Good Wife
manages to be smart and funny while addressing today's hottest issues. For seven seasons, we've followed
Alicia Florrick
and her family through ever-evolving relationships, which set the stage for riveting story arcs, dynamic character growth, and nail-biting scenes.
Get ready to immerse yourself in the show with our guide to some of the biggest episodes of Season 7.
If you missed it, don't forget to get caught up with:
Remember that every episode of The Good Wife is available on demand with
CBS All Access.
---
Episode 1, Season 7: "Bond"
After stepping down from State's Attorney, Alicia attempts to get back into the legal game. She begins representing defendants in bond court and tries to make friends with one of the other attorneys,
Lucca Quinn
. Peter begins his run for President (really aiming for a Vice Presidential slot) and
replaces Eli as his campaign manager in favor of Ruth Eastman
, an incredibly successful operative on the national level. A vengeful
Eli
starts works for Alicia to help her revive her image.
Watch "Bond" on CBS All Access.
---
Episode 10, Season 7: "KSR"
Ruth realizes that
Jason Crouse
could destroy both Peter and Alicia's public images. She convinces
Courtney Paige
,
current girlfriend of Eli Gold and
a billionaire who could contribute substantially to Peter's campaign, to hire Jason for a gig out of state. Later, after being burned by Courtney's surprising breakup,
Eli confesses a deep secret that he has kept from Alicia for six years.
Watch "KSR" on CBS All Access.
---
Episode 11, Season 7: "Iowa"
Alicia joins Peter, their kids, Ruth, and Eli on the campaign trail in Iowa. After racing around the state, the result of the Caucus surprises everyone. Following Eli's confession, Alicia is understandably furious, but supports her husband in the race.
Watch "Iowa" on CBS All Access.
---
Episode 14, Season 7: "Monday"
Alicia and Lucca join Lockhart/
Agos
/Lee. After discovering that an agent was trying to gain information from his daughter,
Marissa
, Eli Gold realizes that the FBI is coming after Peter.
Watch "Monday" on CBS All Access.
---
Episode 15, Season 7: "Targets"
The FBI continues its inquest into Peter. Eli hires
Elsbeth Tascioni's
equally quirky and talented ex-husband to represent him. Meanwhile, Jason Crouse has returned and things jump to the next level in the relationship with Alicia.
Watch "Targets" on CBS All Access.
---
Episode 18, Season 7: "Unmanned"
AUSA Connor Fox has been leading a grand jury against Peter and slowly, but surely, has been subpoenaing the people in his life. Alicia
agrees to stand by his side for the trial and also
makes a huge decision regarding their marriage.
Watch "Unmanned" on CBS All Access.
---
Episode 19, Season 7: "Landing"
Peter is arrested after the grand jury chooses to indict, and plea deals are rejected. Diane Lockhart's husband Kurt wants to sell his business to his former star pupil, Holly. When asked by Kurt to check the sales contract, Diane confronts Holly about undervaluing his ballistics company.
Watch "Landing" on CBS All Access.
---
Episode 20, Season 7: "Party"
Alicia hosts a Ketubah signing party for Jackie Florrick and Howard Lyman. We see all of the characters for one final time as they each prepare their individual futures.
Watch "Party" on CBS All Access.
---
Episode 21, Season 7: "Verdict"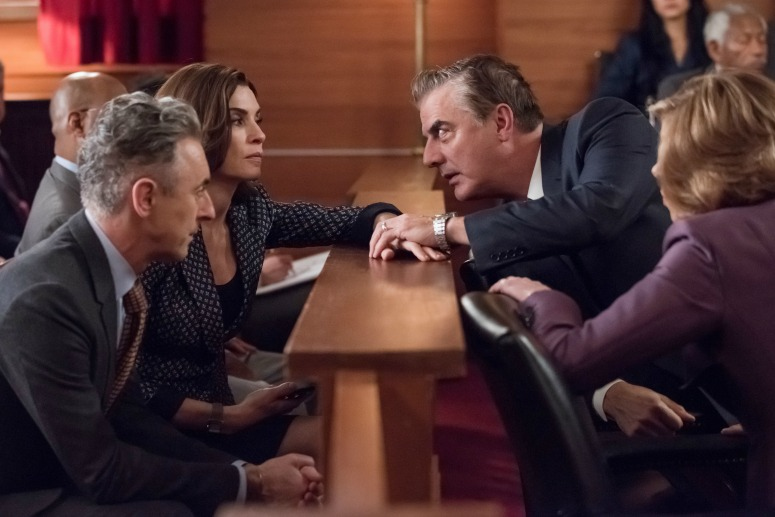 Represented by
Diane
and Lucca, Peter's trial begins. Alicia and Jason's relationship takes a hit and the two try to come up with a plan for their future. We learn mind-blowing secrets involving characters from past seasons.
Watch "Verdict" on CBS All Access.
---
Episode 22, Season 7: "End"
When Peter's jury returns without a verdict, he must consider taking a new plea deal. In order to stall the jury, Lucca, pressured by Alicia, puts Diane's relationship with Kurt on the line.
As Alicia contemplates her next move, we see a familiar face return to help guide her. In many ways, the series comes full circle.
Watch "End" on CBS All Access.
To see a striking visual parallel between the first and last episodes of the series, watch this special side-by-side comparison
(WARNING: MAJOR SERIES SPOILERS)
:
---
From Left:
Jason Crouse, Ruth Eastman, and Lucca Quinn
Season 7 at a glance:
We meet AUSA Connor Fox, a lawyer representing the federal government in the case against Peter Florrick; Lucca Quinn, Alicia's new friend and partner; Jason Crouse, a private investigator and Alicia's budding love interest; Mike Tascioni, Elsbeth's equally quirky and brilliant ex-husband; Courtney Paige, a billionaire and Eli Gold's love interest; and Ruth Eastman, a cut-throat campaign manager hired by Peter Florrick in his run for (Vice) President.
After stepping down from her position as State's Attorney at the end of Season 6, Alicia begins anew in bond court, where she meets future friend and partner Lucca Quinn.
Peter announces his bid for President and fires Eli in favor of a more experienced campaign manager. In retaliation, Eli begins working for Alicia in an attempt to both restore her image and undermine Ruth's involvement in Peter's campaign.
Alicia and Lucca start their own firm and hire private investigator Jason Crouse, who Alicia later starts a romantic affair with.
Alicia and Lucca merge with Lockhart/Agos/Lee. Later, Diane Lockhart confesses her plan that she wants an all-female named partner firm and buys out Cary Agos.
After coming up short in the Iowa Caucus, Peter returns to work as the Governor of Illinois. He's then charged with corruption by the federal government.
Peter is represented by Diane and Lucca in court. The proceedings lead to turmoil for everyone—particularly for Alicia and Diane.
The series concludes with major parallels to how it began—but with entirely different outcomes.
From Left:
Courtney Paige, Mike Tascioni, and AUSA Connor Fox
If you missed them:
You can watch every episode of The Good Wife on demand with CBS All Access.