"The Ready Room" Breaks Down Star Trek: Picard Episode 9, "Et In Arcadia Ego, Part 1"
Host Wil Wheaton examines Star Trek: Picard's ninth episode, "Et in Arcadia Ego, Part 1," with actress Isa Briones.
Posted on Mar 19, 2020 | 11:00am
The Season 1 finale of
Star Trek: Picard
is almost here—but before that, the penultimate "Ready Room" is ready to beam up to your screen and break down the second-to-last episode!
STREAM: Episode 9 Of Star Trek: Picard, "Et In Arcadia Ego, Part 1"
If you're new to "The Ready Room," you can catch the first eight installments on
CBS.com
,
Facebook (@StarTrekCBS)
,
IGTV (@StarTrekCBS)
, and
YouTube (CBS All Access)
. New videos debut every Thursday in the hours following the latest episode of
Star Trek: Picard
at 10 AM ET / 7 AM PT.
READ: "The Ready Room" Breaks Down Star Trek: Picard Episode 8, "Broken Pieces"
This week on "The Ready Room," host Wil Wheaton (
Star Trek: The Next Generation
) is joined by
Isa Briones
, who portrays not one, not two, but three different characters on
Star Trek: Picard
.
Spoilers lie ahead, so proceed with caution!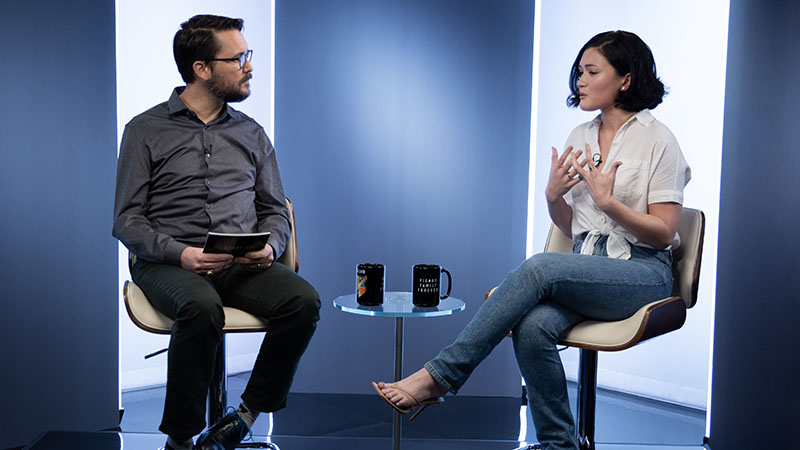 Becoming Sutra
Fans already know Briones as the actor behind
Star Trek: Picard
's Soji and her twin sister Dahj, but in Episode 8, "Broken Pieces," we discover there is another pair of Soji look-alike synthetics. However, one of them, Jana, was previously killed by Rios' former captain on Starfleet orders. The motley crew meets Jana's twin, Sutra, in "Et in Arcadia Ego, Part 1."
Unlike Dahj and Soji, Sutra's golden skin and yellowy-green eyes are far more reminiscent of Picard's favorite synthetic, Data. Though, her familiar appearance aside, Sutra may pose much more of a threat to the La Sirena crew.
Briones says she didn't find out she was going to playing this third synthetic until the season was already filming, which allowed her to build Sutra in juxtaposition to her already established Soji.
"When I first found out that I was going to be twins, before we even started filming, I was like, 'Oh I'm so excited, I get to play opposite myself,' and then I get the script, and I'm like, [Dahj] dies in the first episode," Briones says. "Then getting Sutra that late in the game...Especially since I've already very firmly established who Soji is at this point, that it allowed me to immediately go in a completely different direction. I wasn't prepping, creating two characters at the same time, it was just like adding a new foe, a new interesting person into the mix."
As for getting into character, Briones says the costuming for Sutra went a long way.
"When you get into the gold and into the outfit and into the hair, there's something that's so magical about costumes and really making that character, that I feel like it naturally just happens," she explains.
Briones continues, "It is wild how just walking around set in those wedges, suddenly you start to walk differently and you start to just feel the character. And even the people on set were like, 'Oh my god, you become a whole other person, I'm scared of you.'"
Inside Sutra's mindset
In "Et in Arcadia Ego, Part 1," Sutra calls on Soji to join her plan to summon a higher synthetic power that will destroy all organics—AKA the entire living population of the universe—so that the all-synth society on Coppelius will be safe from persecution. This is quite the leap, character-wise, from Soji's more recent struggle to simply establish her identity in the face of so much new information.
Briones believes Sutra falls into the category of "baddies" who believe they're on the side of good, and unlike the other synths on Coppelius, Sutra has a strong reason to mistrust organics.
"The thing that's different about Sutra is her sister was taken and...that loss is what makes her develop in a very different way than everyone else," she says. "Since [the synths on Coppelius] are not extremely experienced in the ways of the world, all she knows is this pain, and that immediately colors the way that she goes forward and the way she views sentient life, all living things. She can't trust anyone and that's what drives her to make these not popular decisions."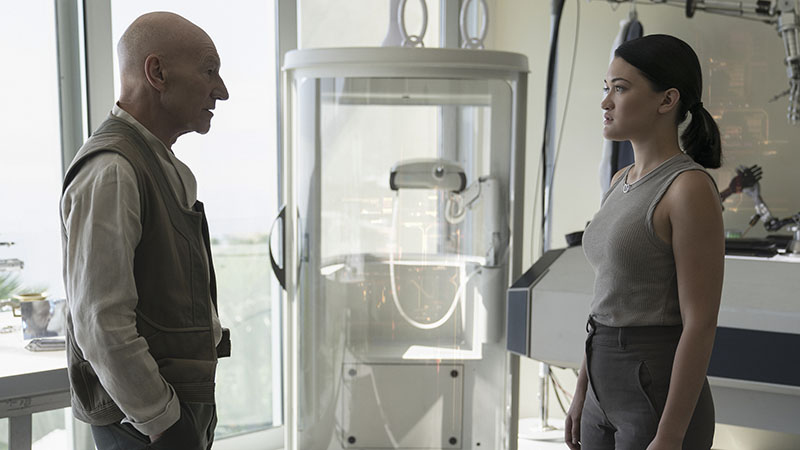 Accessing Data
As Data's daughter, per se, Briones is making a major mark on the
Star Trek
canon. She says the
Picard
creators gave her free rein with her character, and that she wasn't trying to "be" Data—but that didn't prevent a few Data moments from creeping into her performance.
"[The creative team was] like, 'She needs to appear human, so just be you,'" Briones explains, "but we get to sprinkle in little Easter egg head-tilt moments."
Episode 4, "Absolute Candor"—directed by Jonathan Frakes (
Star Trek: The Next Generation
)—is the first time Soji does the Data-inspired head-tilt.
"I was so nervous and I hadn't worked with [Data actor] Brent [Spiner] yet, and I didn't really talk to him a lot, so I didn't get a chance to be like, 'Am I doing this right?'" she says. "But since Frakes was there, I was like, 'Hey, are you going to help me? People are going to eat me alive on the Internet if I do this wrong.' And so we tried it a few different ways, and then the last take, I hear Frakes, all the way over in his tent, go, 'Perfect!' Just scream, 'Brilliant!'"
Becoming a part of the Star Trek legacy
To prepare for her role in
Star Trek: Picard
, the show's creative leads (or "Star Trek Incorporated," as Wheaton calls them) gave her a list of
Star Trek
universe material to watch ahead of time. But even before that, Briones had taken it upon herself to do research and discovered the
TNG
episode "The Offspring," which features another daughter of Data.
"Of course, I got obsessed with that episode, and I kind of bopped around to various episodes but then I got to, I think it's end of Season 3 where Picard gets assimilated by the Borg, and I was like, 'Oh, this is cool,' and I just kept watching," she says.
Even after becoming a genuine
Star Trek
fan, Briones admits she was caught somewhat off guard—in a good way—by the fandom.
"Of course, I knew it was this job that I was doing and, of course, that's important," she says. "But getting to really know the story and also getting to meet fans, going to comic cons and really seeing how much this whole franchise, but specifically this captain, has meant to so many people and the impact it has had on their lives...It becomes a very emotional part of the job, it becomes so much more than just a show you're doing."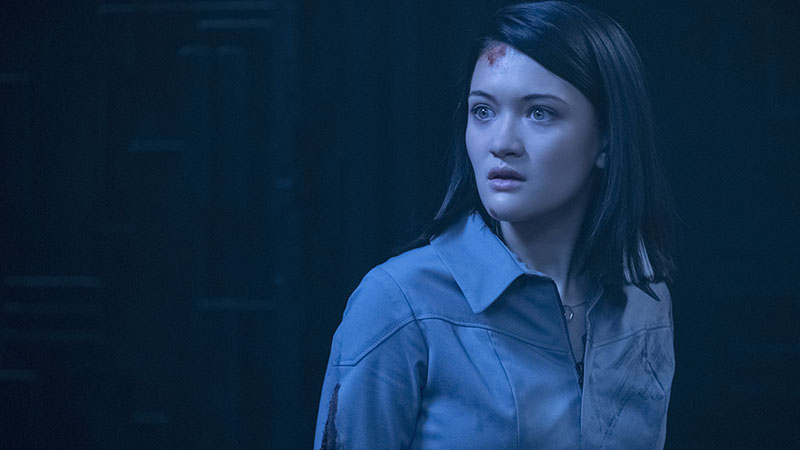 STREAM: Every Episode Of Star Trek: Picard
Now, prepare yourselves: Next week, the
Star Trek: Picard
Season 1 finale, entitled "Et in Arcadia Ego, Part 2," will drop Thursday, Mar. 26, exclusively in the U.S. on
CBS All Access
.
Come back next week for an all-new installment of "The Ready Room," Thursdays at 10 AM ET / 7 AM PT.
And, of course, don't miss all-new episodes of
Star Trek: Picard
, available to stream on Thursdays, exclusively in the U.S. on
CBS All Access
.