"The Ready Room" Breaks Down Star Trek: Picard Episode 4, "Absolute Candor"
Host Wil Wheaton examines Star Trek: Picard's fourth episode, "Absolute Candor," with actor Santiago Cabrera.
Posted on Feb 13, 2020 | 01:00pm
CBS All Access
original series
Star Trek: Picard
continues to deliver each week, and so does "The Ready Room"!
STREAM: Episode 4 Of Star Trek: Picard, "Absolute Candor"
In case you haven't had the pleasure, you can catch the first three installments of "The Ready Room" on
CBS.com
,
Facebook (@StarTrekCBS)
,
IGTV (@StarTrekCBS)
, and
YouTube (CBS All Access)
. New videos debut every Thursday in the hours following the latest episode of
Star Trek: Picard
at 10 AM ET / 7 AM PT.
READ: "The Ready Room" Breaks Down Star Trek: Picard Episode 3, "The End Is The Beginning"
On this week's edition of "The Ready Room," host Wil Wheaton (
Star Trek: The Next Generation
) sits down with
Santiago Cabrera
, who plays the dashing yet mysterious pilot Cristóbal Rios—plus a host of emergency holograms on-board the ship
La Sirena
—and who comes into sharper focus in "
Absolute Candor
." The pair delve into Rios' motivations and psychology, as well as give a few hints as to what viewers can expect to see from the captain in upcoming episodes.
If you hadn't already guessed, spoilers for "Absolute Candor" lie ahead, so read with caution.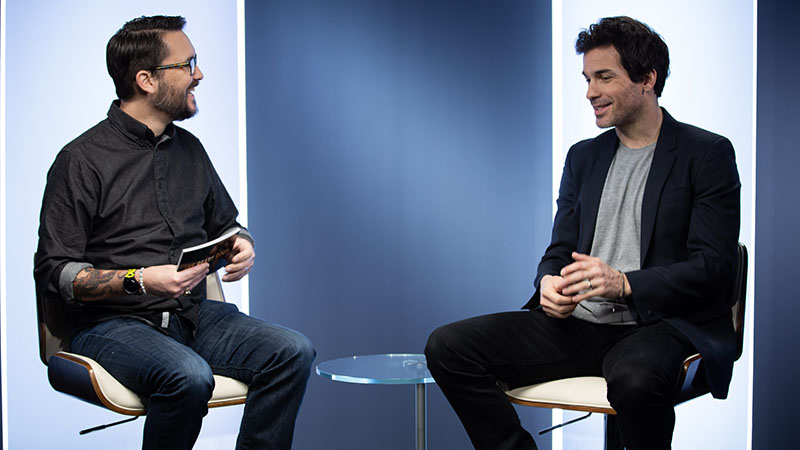 Rios, in his own words
Fans got an introductory look at Cristóbal Rios in
Episode 3, "The End Is The Beginning,"
but what should they know about the mysterious captain's history?
"He is a former Starfleet officer," Cabrera says. "But he's got kind of a beef with Starfleet because he's got a very traumatic event in his past that will be revealed in later episodes, that's the reason why he left Starfleet."
It seems like Rios has been a lone wolf for a while, so how will he adjust to having passengers on his ship?
"I love the sort of juxtaposition of it," Cabrera explains. "In a way, he's pissed. He doesn't want people. It's like, 'What are these people doing on my ship?' But, at the same time, there's something exciting about being on a mission again and having that human contact. He's used to doing things his way and being able to do whatever he wants on his ship and have that freedom. He would never admit it, but I think he kind of likes [having them around]."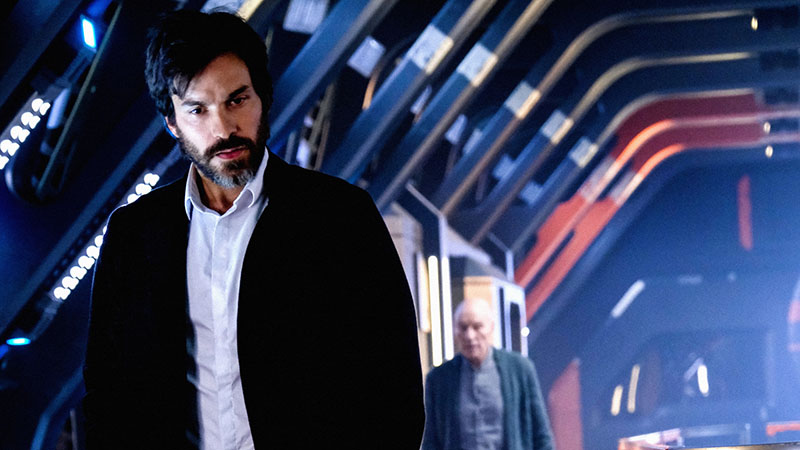 Two captains, one ship?
And Rios doesn't just have to deal with
any
old passengers on his ship—one of those passengers happens to be retired Admiral Jean-Luc Picard (
Patrick Stewart
). What does Picard represent to an ex-Starfleet officer?
"If you grow up and you're in Starfleet, you will know who Picard was, you will have heard of him, you would have read his texts," Cabrera says. "Maybe he would have even come in for some lectures and stuff. And I think there definitely is that respect, but [Rios] doesn't know [Picard] yet for the man he is. At the beginning for Rios, Picard is the embodiment of Starfleet, an institution that he's been disillusioned with. So there is that kind of reticence to go there with this man because he kind of has been wanting to separate himself from that, he doesn't want to go back to that stage in his life."
We don't yet know what caused Rios to leave Starfleet. Is it possible Picard had anything to do with it?
"Big decisions were made from people above and [Rios] doesn't know if even Picard knew about this, had anything to do with what was his own traumatic event. It's a reminder of who he could have been because Rios was a young prodigy himself, his life was going in that direction where he would have been a Starfleet captain but things took a turn and now he's out, just wandering in his own ship. It's a life that could have been but didn't happen."
Shooting with Stewart, however, wasn't quite as gloomy as all that. Cabrera admits he was intimidated by working with the actor—who wouldn't be?—especially since Rios has the captain's chair and Picard doesn't.
"There's that thing of like, you gotta own it. But by the end of it, it became just a joke with Patrick, we'd do this thing where the chair was there, and there was a scene where we both had to walk to the chair, so we'd do the funny take where someone just kind of runs, makes sure they grab the seat. And he'd be standing next to me sometimes and I'd say, 'You miss it? You want to sit here?' And he would chuckle."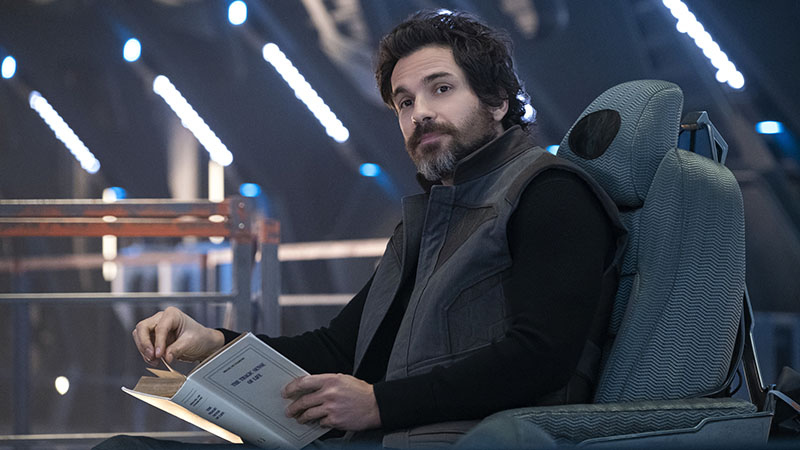 Embodying more than just a pilot
On
Star Trek: Picard
, Cabrera doesn't only play Cristóbal Rios. He also appears as emergency holograms on
La Sirena
, Rios' starship. Each hologram has a different duty, from medical aid to hospitality responsibilities to security and tactical response. Consider it an entire crew, contained within one actor.
Playing all those different characters is an actor's dream, Cabrera admits. But that wasn't the only reason he was interested in the role(s).
"The real hook was—cause it had to have substance. And what was there—and we discussed this with [Executive Producers] Michael [Chabon] and Akiva [Goldsman]—was the psychology of a man that's got versions of himself on the ship, who's a lonely figure but who kind of needs to relate to these people. And as much as possible, we try to bring in the banter. It's like he hates them, he tells them to deactivate and throws them away, but really he needs them and he depends on them."
Cabrera also reveals a few techniques he used to keep the holograms separate in his mind. (Aspiring actors, take note!)
"The accents helped," he said, "as a sort of technical thing. But I was very clear about where the voice was placed. For some of them, a bit more nasal or a bit more grounded. And then I had a reference, like a mental image of a person, for each one."
And just because he played a few other characters doesn't mean Cabrera took it easy when preparing to play Rios. He made sure to spend time with the ship on-set so he could familiarize himself with his character's home.
But playing a starship captain, particularly one who uses holographic controls, does have its challenges.
"Normally, you play a pilot on something, at least I would go and try and get up in the air in a plane and meet pilots and fly in the cockpit, but here, what are you gonna do? You can't fly a spaceship," Cabrera explains. "So I just watched ['Next Generation'], I was paying attention to how the ship was being flown...The effects guys were there all the time, so we'd discuss it at length. And I had specific moves, and like every time we take off, I made up some specific things."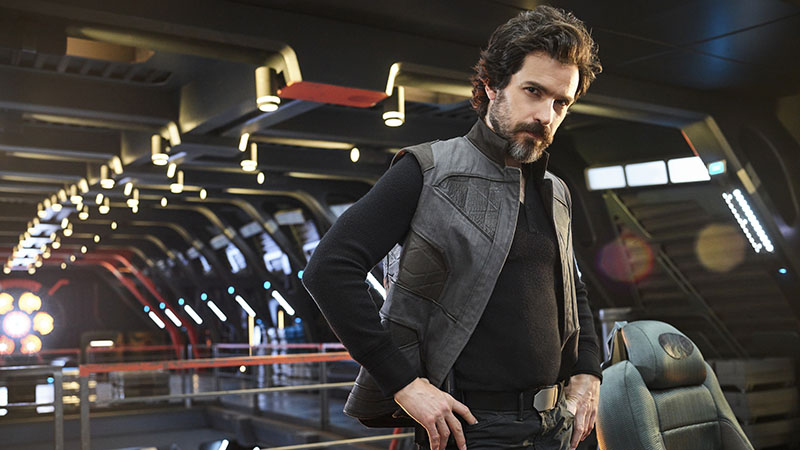 Cabrera also discussed working with Jonathan Frakes, who played William Riker on
Star Trek: The Next Generation
and directed "Absolute Candor," and what fans can look forward to from Seven of Nine (
Jeri Ryan
).
To wrap up the latest installment of "The Ready Room," viewers get an exclusive sneak peek at the next episode of
Star Trek: Picard
entitled "Stardust City Rag," which drops Thursday, Feb. 20, exclusively in the U.S. on
CBS All Access
.
Come back next week for an all-new installment of "The Ready Room," Thursdays at 10 AM ET / 7 AM PT.
And, of course, don't miss all-new episodes of
Star Trek: Picard
, available to stream on Thursdays, exclusively in the U.S. on
CBS All Access
.