"The Ready Room" Breaks Down Star Trek: Picard Episode 3, "The End Is The Beginning"
Host Wil Wheaton takes a closer look at Star Trek: Picard's third episode, "The End Is The Beginning," with actress Michelle Hurd.
Posted on Feb 6, 2020 | 07:00am
Another week, another episode of the
CBS All Access
' original series
Star Trek: Picard
!
And what better way to break down the events of Episode 3, "The End Is The Beginning," than "The Ready Room"?
STREAM:
Episode 3 Of Star Trek: Picard, "The End Is The Beginning"
In case you missed them, you can catch the first two installments of "The Ready Room" on
CBS.com
,
Facebook (@StarTrekCBS)
,
IGTV (@StarTrekCBS)
, and
YouTube (CBS All Access)
. New videos debut every Thursday in the hours following the latest episode of
Star Trek: Picard
at 10 AM ET / 7 AM PT.
READ: "The Ready Room" Breaks Down Star Trek: Picard Episode 2, "Maps & Legends"
This week, host Wil Wheaton (
Star Trek: The Next Generation
) teams up with star
Michelle Hurd
to examine her character, Raffi Musiker, a former Starfleet colleague of Jean-Luc Picard (
Patrick Stewart
), who becomes a bigger player in the latest episode of
Star Trek: Picard.
Spoilers, spoilers, and more spoilers ahead, so read with caution.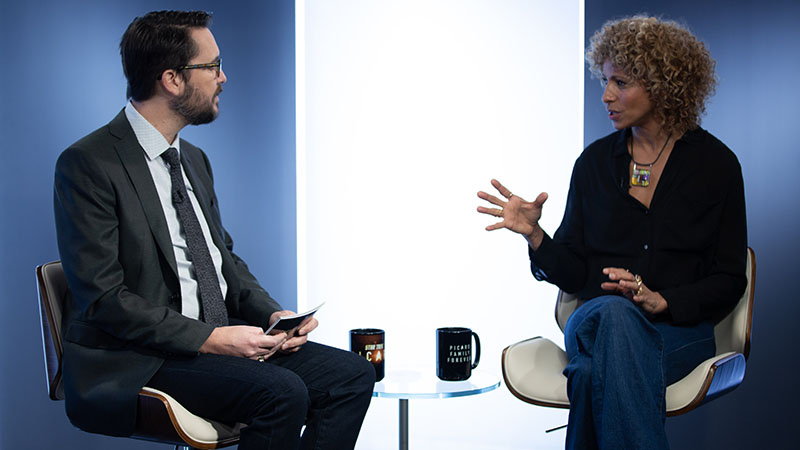 Digging into Raffi and Picard's relationship
So what should fans know about Raffi?
"Raffi's backstory is really deep and complex," Hurd explains. "Her parents were in the Federation and they ended up having to leave her behind so they could pursue their careers. So she was sort of raised by other people, which causes her to have guilt and spiral and question her choice—and within that, she starts to lean on some crutches."
In "The End Is The Beginning," it's clear that when Picard reunites with Raffi, she turns to her vape—called a "horgl," according to Hurd—and booze quite a bit. But that wasn't always the case.
"[Picard] pulled her out of her addiction," Hurd says. "When she started to work with him, she started to get braver, and wanted to achieve and wanted to be present, so she stopped her crutches. She stopped drinking, she stopped smoking. She stayed with him, he was her saving grace, her life-saver. When the situation with the Romulans happened and he resigns, it was a huge slap in the face for her."
It's that sense of betrayal that now fuels Raffi's attitude towards Picard—and her addictions.
"We both were on this same journey, we were going to save them," Hurd adds. "And then he resigns? He uses that as a threat, as opposed to staying in there and fighting? So [Raffi] really spirals. And she goes back to her old devices."
Hurd goes on, saying, "I love that she's so perfectly imperfect. Because we all are at some point, there's some little thing that we wish was better, but you have to figure out how to get through it. I think it's really important for us to tell that story and I love that we can tell that story in the situation where usually all the people are so put together and so perfect. You go, 'Yeah, even in that world, we have perfectly imperfect people, just like we do here.'"
For Picard's new cohorts, it's all about diversity
Hurd also discusses the significance of playing a biracial woman on
Star Trek: Picard
.
"My father is black, my mother's white. My father was an actor and, back in the day, it was really important for him to make sure that, when we were watching any kind of TV or movies or even going to see Broadway, that it was inclusive," Hurd says. "When I got this job, I literally had a flashback of us as a family, sitting around watching
Star Trek
and watching the first interracial kiss on television. And if you think about it, as a biracial child, that was the first time I could see my parents, basically, represented on television."
Hurd explains that she's frequently played cops, detectives, and lawyers on TV, and that she always thought appearing in those roles was the way to help spotlight important issues. But now, she realizes science fiction that can do that, as well.
"It's under this awning that we can tell our stories," she says. "And
Star Trek
, particularly, has always put a mirror up to life and society.
"I actively have always tried to pick the roles that I've chosen to represent people of color in a fair, broader spectrum than what you typically think of. My father marched with Dr. King, I'm an activist as well as an actor, so yeah, I'm really aware of that," she explains. "[Dahj/Soji actress]
Isa Briones
is Eurasian, [Elnor actor]
Evan [Evagora]
is mixed. This crew is giving a lot of children and a lot of people their mirror."
Rios 4-1-1
Raffi doesn't just bring her own extensive expertise to the motley crew of
Star Trek: Picard
—she also introduces Picard to a mysterious pilot named Cristóbal Rios (
Santiago Cabrera
), who agrees to transport Picard, Raffi, and Dr. Agnes Jurati (
Alison Pill
) to Freecloud, which is the current refuge of Dr. Bruce Maddox, the cyberneticist who came the closest to replicating Data's positronic brain.
How does Raffi happen to have an available flier on hand, and why would he agree to work with them?
"I think what Raffi and Rios have in common is their distrust of the Federation," Hurd says. "They've both been burned. They've both been awoken to the fact that it's not all unicorns and rainbows.
"After me leaving the Federation or being fired and him leaving for his situation," Hurd explains, "they found each other. Probably at a bar. And started up a conversation about whatever and it came to the way they feel about the Federation and they bonded. And they've kept a really good relationship, a really close thing."
To wrap up the latest installment of "The Ready Room," viewers get an exclusive sneak peek at the next episode of
Star Trek: Picard
entitled "Absolute Candor," which drops Thursday, Feb. 13, exclusively in the U.S. on
CBS All Access
.
Come back next week for an all-new installment of "The Ready Room," Thursdays at 10 AM ET / 7 AM PT.
And, of course, don't miss all-new episodes of
Star Trek: Picard
, available to stream on Thursdays, exclusively in the U.S. on
CBS All Access
.