Each Episode Of Interrogation Is Like A Case File Taking Us Deeper Into A Grisly Crime
Viewers can become the detective when all ten episodes drop Thursday, Feb. 6 exclusively on CBS All Access.
Posted on Jan 12, 2020 | 05:35pm
A visually stunning trailer gives audiences their first glimpse of the true-crime series
Interrogation
while posing a simple yet profound question—what
is
the truth?
All ten episodes will be available to stream exclusively for
CBS All Access
subscribers on Thursday, Feb. 6. After watching the first episode—the day of the crime—viewers are encouraged to become the detective to try and figure out what exactly happened when Mary Fisher was murdered. Each subsequent episode presents a different character's perspective on the truth and can be viewed in any order.
PHOTOS: The Cast Of Interrogation Makes A Striking Lineup
The creative team behind the series gathered for a Television Critics Association panel on Sunday in Pasadena, CA.
Interrogation
is built upon actual case files from a true story, spanning more than 20 years during which a young man was charged and convicted of brutally murdering his mother.
After watching the day of the crime, Executive Producer Anders Weidemann invites viewers to "pick your own investigative path through the episodes" leading up to the finale. "Depending on which order you choose, the narration will change. You'll have a slightly different perception on what
your
truth is."
Executive Producer John Mankiewicz describes the challenge as "like writing nine pilots."
The result is "more of a spiders' web than a linear story," says Co-Producer Johanna Factor, resulting in an audience experience which is more like how a real detective would approach a cold case.
Factor explained the way in which the writers room approached the series saying, "Imagine you have a box of documents, photographs, stories of reports, and they're all jumbled. You're going through this box and trying to tell a story that's multilinear and goes down several avenues, but also trying to make each episode unique and standout and fun to watch in any order."
The unconventional approach also created some challenges for the actors, who had to portray their characters across multiple decades.
"We were really all over the map," says Kyle Gallner, who stars as Eric Fisher, the son of the victim and the prime suspect in the investigation by Detective David Russell (played by Peter Sarsgaard). "There were days I'd be [age] 17, 40, and then 17 again. There were days I'd have to go to whoever was on set that day and ask, 'Can you tell me who I am? I'm not sure what year I'm in right now!'"
Though the series itself is a mystery, there's one element that is decidedly not, according to David Stratharn, who plays Eric's father. "It's not a mystery," he said, referring to how Mr. Fisher fights for his son's innocence. "I think it's what any parent might experience, having something like this happen."
As for Detective Russell, Peter Sarsgaard said the character faces his own set of challenges. "If you think you've made such an egregious mistake as David Russell would have made, coming to terms with that is almost impossible," said the actor. "I think cognitive dissonance is a term and phrase people throw around easily and don't really think about how deep it is. That was something I was really interested in."
Subtle choices helped to ensure the story feels authentic. Gallner would chew on his sweatshirt strings when portraying the character as a teenage suspect, an action reflecting his nervous youth—distinct from the way a middle-age Fisher holds himself.
Because the show is about perspective, that same attention to detail was needed in all phases of production.
"In terms of costumes and props, we had to be very, very careful with each little item," says Factor. "For example, Mary [the victim] sets down her keys in the kitchen in one episode. And she sets down her keys somewhere else in another episode. Depending on how you watch it, that is a little piece of evidence that an audience will notice. It's full of Easter Eggs."
Viewers will follow the evidence, but "you also become a detective into the lives of these characters," points out Weidemann. "One episode you see Detective Russell and he's happily married. And the next he's trying to pick up a chick at a bar. What happened?"
If you're just looking for a lean-back experience,
Interrogation
provides that, too. "You can strip away the whole multilinear thing and watch it as a great story," confirms Weidemann "It's a great beginning, a great middle, and a great end. It's both."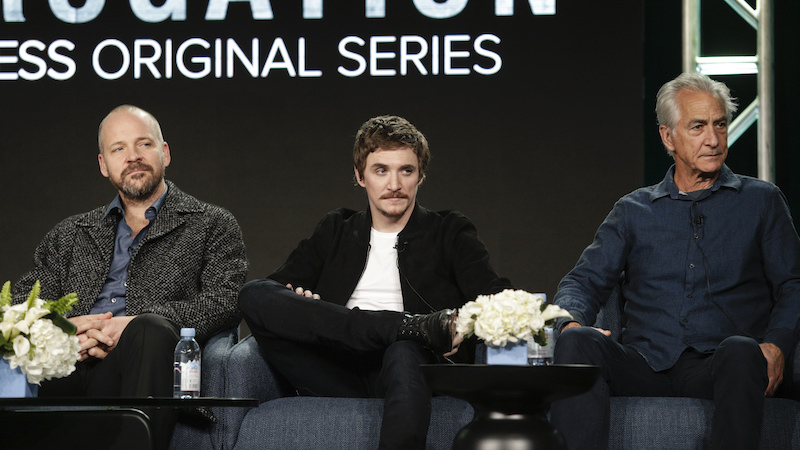 The topic lends itself to great storytelling. As Director Ernest Dickerson puts it, "I think everybody is fascinated with true crime stories, because it's sometimes human nature at its best and at its worst. Those extremes are fascinating... We hope that we'll appeal to folks who want to be a detective, who want to act like a detective, who want to go through the same thought processes as a cold case detective."
However you watch, one episode is designated as the finale—though viewers will likely find themselves wanting to watch episodes that much closer once the end credits roll.
"You could cheat and watch the final episode, the same way you can read the final chapter in a novel," acknowledges Weidemann. "But when you watch, you're going to think, 'Hmmm, there are still things that don't add up,' and you're going to want to go back and rewatch!"
Stream
Interrogation
starting Thursday, Feb. 6 exclusively on
CBS All Access
.