Instinct Is The Drama Fans And Critics Have Been Waiting For
People are taking notice of the new CBS crime thriller—and a groundbreaking role for Alan Cumming.
Posted on Mar 21, 2018 | 11:20am
Instinct
is bringing intrigue to Sunday nights and fans are loving it!
STREAM: The Full First Episode Of Instinct On CBS All Access
Dr. Dylan Reinhart (Alan Cumming) and NYPD Detective Lizzie Needham (Bojana Novakovic) team up when they realize a serial killer is using Reinhart's book as a guide to commit a series of twisted crimes.
Forreal though, #Instinct is an epic show with two amazing leads (a kickass gay man and a kickass woman) played by AMAZING actors, with AMAZING writing. I can't WAIT for the next episode! (And I don't know how I'll make it a whole week ?)

— Jack (@whyrntulaughing) March 19, 2018
Reinhart isn't just any academic. He's a former CIA operative, too. Oh, and he happens to be the first openly gay character to lead a broadcast drama series. The groundbreaking role is brought to life by Cumming's award-winning acting cops, so it's no wonder
Instinct
's first episode was a hit.
READ: Alan Cumming Gets Even More Charming The More You Get To Know Him
The show was Sunday's #1 entertainment program in TV viewers and the biggest premiere of the week on any network. It also hit #9 for viewership across all network shows for the week. The impressive ratings start was matched by some glowing reviews:
"He wears a lot of hats and his outfits are impeccable. It's kind of a perfect Cumming vehicle ... It's quite the match because the actor is a man of many talents and what better place than CBS, the best network at shaping entertaining procedurals, to show them off?" —
Tim Goodman, The Hollywood Reporter
"
Instinct
is the gay-driven drama broadcast TV desperately needs. It's long overdue." —
Alamin Yohannes​, Inverse
"Cumming is so fresh and fascinating as this particular profiler of sociopaths that his entertaining performance alone raises
Instinct
above the norm." —
Jeanne Jakle, San Antonio Express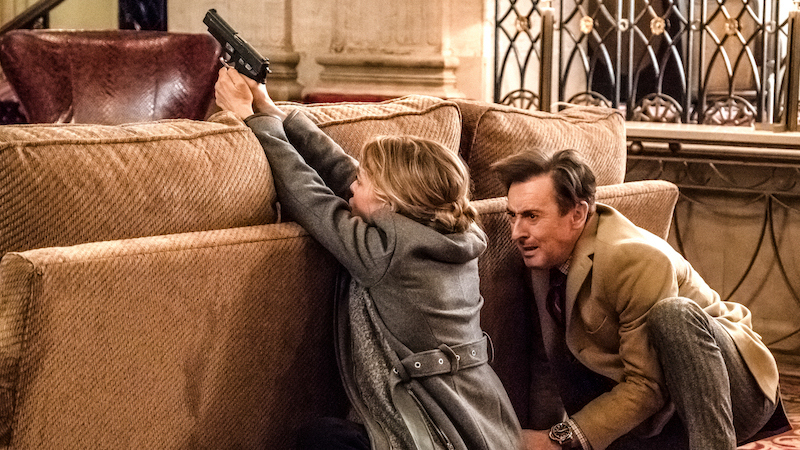 "Alan Cumming's killer 'Instinct' strikes again." —
Meredith Blake, Los Angeles Times
"Dylan is drawn to the life, finding excitement and inspiration in solving crimes with his no-nonsense partner Lizzie (Bojana Novakovic); and as the two investigators make their way around Manhattan,
Instinct
both shoots the city to advantage and explores the fascinating lives of city dwellers." —
Sonia Saraiya, Variety
"CBS isn't just upping the ante in LGBTQ representation on broadcast, as Instinct could also go a long way in redefining how women are played in cop shows." —
Megan Vick, TVGuide.com
Of course, fans weighed in with their own excitement for the new series:
@Alancumming @instinctcbs #Instinct is the rare, fun whodunnit, full of surprises, doesn't pander, and is full of three-dimensional characters. I'm signed up for the full ride.

— Real_JamesCain (@Real_JamesCain) March 19, 2018
HOMERUN!! @CBS @instinctcbs is my new obsession. THANK YOU for positive LGBT representation in prime time!! @Alancumming is a delight! pic.twitter.com/9OFqFFf8hD

— David J (@arlowe007) March 19, 2018
@Alancumming That. Was. Freakin. Awesome. @instinctcbs I'm looking forward to seeing more of the #badassnerd #Instinct

— Julianne Foley (@julsfoley) March 19, 2018
READ: How Alan Cumming's New Instinct Character Earned His "Dr. Psychopath" Nickname
Watch all-new episodes of
Instinct
on Sundays at 8/7 on CBS and
CBS All Access
.