Big Brother 21 Episode Recaps: A Winner Is Crowned
Don't miss a single moment of THE summer event: Big Brother Season 21 on CBS and CBS All Access!
Posted on Sep 26, 2019 | 09:00am
Big Brother
is back for another epic summer of alliances, showmances, and unexpected twists.
As
16 all-new Houseguests
compete for the coveted $500,000 grand prize, there's sure to be a lot of drama and zaniness to keep track of.
That's why we've created a one-stop-shop for all of your BB episode recap needs.
Check back at any point in the season to catch up on what you may have missed! But beware:
there are spoilers below!
STREAM: Full Episodes Of Big Brother 21 On CBS All Access
Episode 40 / Final HOH: Michie / America's Favorite HG: Nicole / Winner Of Big Brother 21: Michie
Dr. Will returned to host a roundtable discussion with the Jury
, and the former Houseguests learned that the next member of the Jury was Cliff.
During the roundtable, the Jury got into discussions about Michie's loyalty, whether or not Nicole is a floater, and how much of a role Holly actually had in getting to the final three.
In the second part of the final HOH competition, the Holly and Nicole had to match up certain BB21 milestones with the day they happened. In the end,
Holly won with the fastest time
.
Nicole was upset by her loss, but then Holly considered taking Nicole to final two over Michie if she won the final HOH, thinking her chances of winning might be better.
For the last round of the final HOH comp, Holly and Michie had to watch videos of their evicted Houseguests writing letters from Camp BB—and had to determine which statements were false. Michie won the Final HOH, and chose to evict Nicole, taking he and Holly to face the Jury.
Talking to Julie after her eviction,
Nicole got emotional seeing her family in the audience
.
The rest of the Jury found out Nicole had been evicted, and then asked their questions to the final two. In the end, in a vote of 6-3,
Michie was crowned the winner of Big Brother 21
.
Before the close of the show, Julie revealed that
Nicole was the winner of America's Favorite Houseguest
.
Episode 39
After Cliff left, Nicole struggled with being
stuck in the house as a third wheel to the showmancers
.
Michie tried to convince Nicole that everyone in Jury hated him, so she would take him to the Final Two if she won HOH.
Nicole, Michie, and Holly reflected on their time in the house and the relationships that got them to the end of the game
.
BB20's Kaycee, Tyler, and JC joined Julie on stage
to offer their expertise about the Final Three's game moves.
We got to see a montage of hilarious—and emotional—Diary Room sessions.
Part 1 of the final three-part HOH competition began, which required the HGs to use both physical balance and puzzle-solving skills, and Michie won.
Episode 38 / Evicted: Cliff
Day 93 and four Houseguests have endured the many challenges of living in the Big Brother House. But though the end is near, Julie reminded us only three Houseguests will make it to Finale night.
Earlier in the week, Michie confessed to Nicole that as the Veto-holder, he plans to take Holly to Final Three. Nicole was clearly upset to discover Michie's intention to go back on his word.
Nicole kicked herself for not trusting her instincts and breaking up the showmance when she had a chance. She ignored Michie's request to keep this news between them and
tearfully broke the bad news to Cliff
.
Cliff kept calm for Nicole but vowed in his diary session to fight until the bitter end.
Next, we got a glimpse of life in the Jury house
. Nick surprised Jack, Kat, and Analyse with his arrival and expressed his distrust of Tommy. Kat was annoyed, dreading spending the rest of the summer with her least favorite Houseguest.
Jessica was the next Houseguest to join the group and she showed them what happened the previous week. The Jurors were baffled the Houseguests voted out Jessica instead of Cliff, who they saw as the more obvious threat.
Then she told them the real plot twist: her eviction night was also Double Eviction night. Christie walked in a few hours later and Nick was obvious with his disdain.
Jessica and Christie were both baffled by the major change in Kat's disposition toward Nick and Analyse confirmed the two were suddenly quite close in the Jury house. Nick had nothing to say when asked about Bella.
Tommy showed up next and pulled Christie aside to reveal that he had told the remaining Houseguests about their existing relationship. Together they decided it was time to fill in the other Jurors.
Back in the Big Brother House, Cliff tried one last-ditch effort to sway Michie toward keeping him by reminding him Holly would speak on Michie's behalf in Jury, but voting out Cliff would result in losing both his and Nicole's vote and Cliff would sway the Jury against him.
Jackson was angry at Cliff's insinuations, solidifying his decision to use the Veto on himself.
Live, Julie asked Michie to carry out his Veto plan and
he took himself off the block
. Cliff took his place and he and Holly made their eviction speeches.
Jackson voted to evict Cliff, leaving Holly, Michie, and Nicole as the Final Three.
Cliff joined Julie on stage
and admitted his biggest mistake was trusting he and Michie's agreement would be honored.
Julie told viewers to tune in Sunday for an interview with BB20's Final Three, JC, Tyler, and Kaycee and revealed that part one of the final HOH would play out in full that night.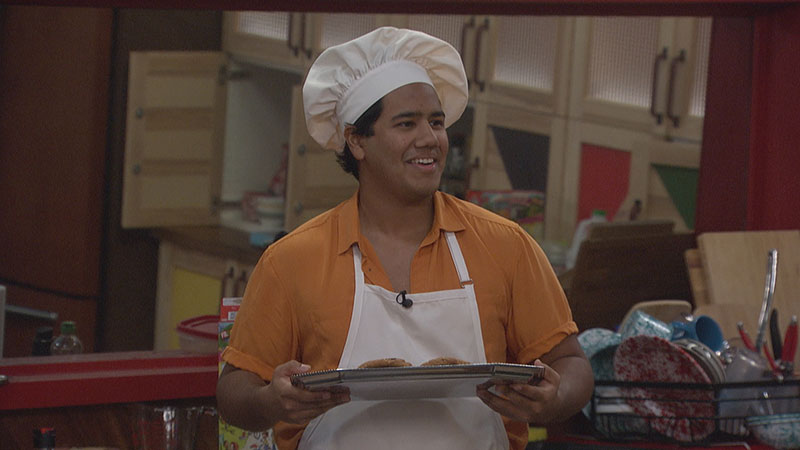 Episode 37 / POV: Michie
Holly and Michie reacted to their nominations, and Holly regretted her decision to agree to throw the HOH competition.
Cliff told Michie that he promised Nicole Final 2, which surprised Michie, who relayed the information to Holly.
Big Brother announced a BB luxury competition
, revealing that some things in the house had been changed while they weren't looking. The first Houseguest to guess the number of changes correctly, or whoever was closest in the shortest amount of time, would be given $10,000.
As the HGs scoured the house for changes,
they found Ovi making cookies in the kitchen
! The correct answer was 18, so Michie's guess of 17 made him the winner.
At the Veto competition, the HGs had to match clues to former BB players using a slingshot, the fastest time earning Veto. I
n the end, the POV went to Michie, who celebrated with a lot of tears
.
Nicole was fearful of what Michie would do with the POV.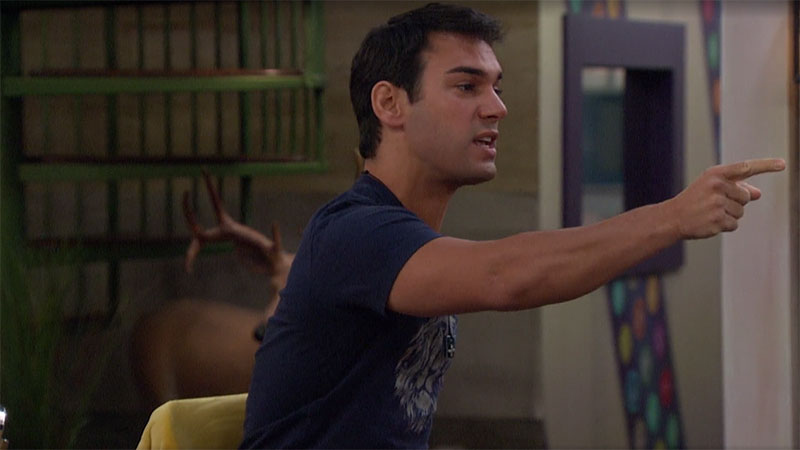 Episode 36 / HOH: Nicole / Nominees: Holly and Michie
As the Houseguests swung around in the endurance competition, we saw a flashback to before the live eviction, with Nicole calling a house meeting.
Michie and Tommy got into a heated shouting match
, where Michie continued the lie that Tommy told him about the plan to throw HOH.
Tommy and Michie continued to campaign to Cliff and Nicole about the upcoming vote, which ended in
another shouting match
.
Before the eviction, it was revealed that Holly promised Nicole and Cliff she'd throw the HOH comp and the Veto comp in exchange for safety.
Nicole won HOH. Afterward,
Michie got emotional about what he did to Tommy
.
Cliff revealed to Nicole that he'd made a deal with Michie behind her back.
Nicole nominated Michie and Holly for eviction
.
Episode 35 / Evicted: Tommy
After the nomination ceremony, Nicole and Cliff struggled to decide if they'd stay true to their alliance or backdoor Holly.
Tommy told Cliff and Nicole that if they kept him, he would throw the HOH competition
, which would mean that Nicole or Cliff would be guaranteed Final 3.
Cliff told Michie that Nicole was thinking about flipping.
Continuing to campaign for himself, Tommy revealed his relationship with Christie to Nicole and Cliff, but Michie interrupted.
Michie made an argument to Cliff and Nicole that if Tommy stayed, Christie would no doubt campaign for him in the Jury house.
Michie and Cliff had a heart to heart about the situation.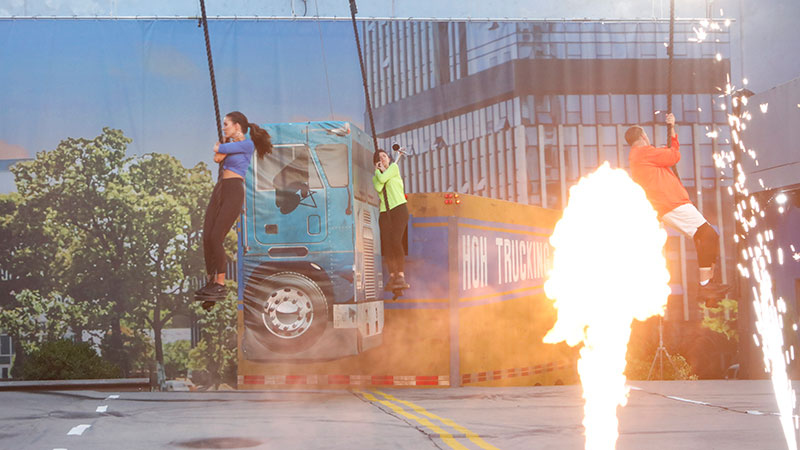 Michie eavesdropped on Cliff and Nicole talking with Tommy, who were strategizing against him.
Michie manipulated the situation and lied to the Cliff and Nicole
and said that Tommy told him about the plan to throw the HOH, which caused Nicole to want to call a house meeting.
At the live vote, Nicole and Cliff decided to vote out Tommy
.
An endurance competition for Head of Household began.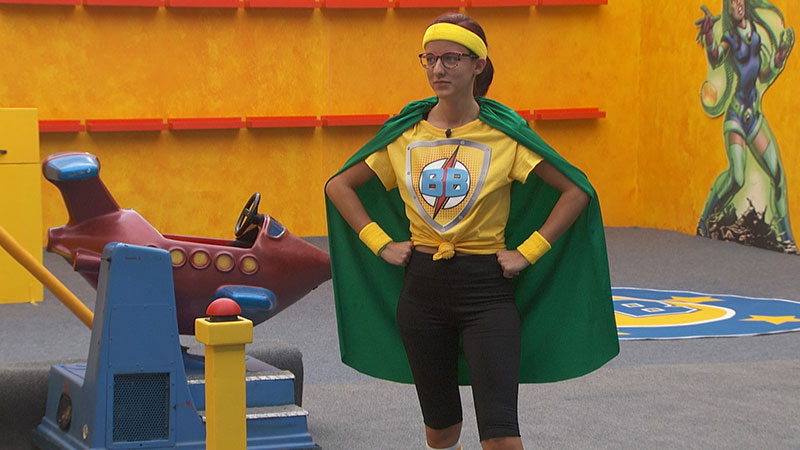 Episode 34 / POV: Nicole / Nominations: Tommy and Holly
Tommy struggled with his loneliness in the house.
Even though she was out of the house, Holly and Michie continued to complain about Christie to Tommy's face. In an effort to gain the trust of Holly and Michie,
Tommy revealed to them that he knew her before the game
.
Before the Veto competition, Cliff psyched himself up.
The Veto comp turned out to be the BB staple, BB Comics!
The Houseguest to match up the correct comic book covers to the display version in the fastest time would win, which turned out to be Nicole with a time of 10:58.
Nicole told Cliff that she was going to use the Veto on him. Michie realized this could happen and told Holly, who freaked out.
Nicole floated the idea of backdooring Holly
.
Nicole told Michie about her intention to use the Veto, and he trusted her that there was no funny business going on.
Nicole talked to Tommy about her plan, and he got emotional, but Michie walked in and got suspicious.
Cliff and Nicole talked further about trying to break up the power couple of the house and the long-term ramifications it could have.
At the Veto ceremony, Nicole used the POV on Cliff and by default, Holly went on the block
.
Episode 33 / HOH: Michie / Nominations: Tommy and Cliff
The Houseguests were left reeling after double eviction night.
In a flashback to double eviction night, Nicole explored her options before the nomination ceremony and after Cliff won Veto.
Tommy and Christie shared an emotional goodbye while trying to figure out Nicole's motives.
With Christie gone, Tommy felt alone in the house
.
Nicole finally got her HOH basket and
the whole house got emotional
when she looked at the photos of her family and read a letter from her parents.
Tommy shared his feelings with Nicole, who promised that he wasn't alone in the game.
Bayleigh and Swaggy C returned to the BB house
to host the HOH competition, "BBFlix and Chill," which Michie won.
Tommy tried to appeal to Michie for safety.
Nicole and Cliff tried to strategize about what would happen if Tommy went on the block but was able to win the POV.
At the nomination ceremony, Michie put Tommy and Cliff on the block
.
Episode 32 / 1st Evicted: Jessica / HOH: Nicole / Nominees: Tommy and Christie / POV: Cliff / 2nd Evicted: Christie
Julie revealed that it was double eviction night
!
Christie tried to convince Cliff that Michie and Holly were working against him, which he relayed to them. This new information painted a target on Christie's back.
Julie told the Houseguests that there would be no Jury Battle Back this season, but did tell them it was
double eviction night
.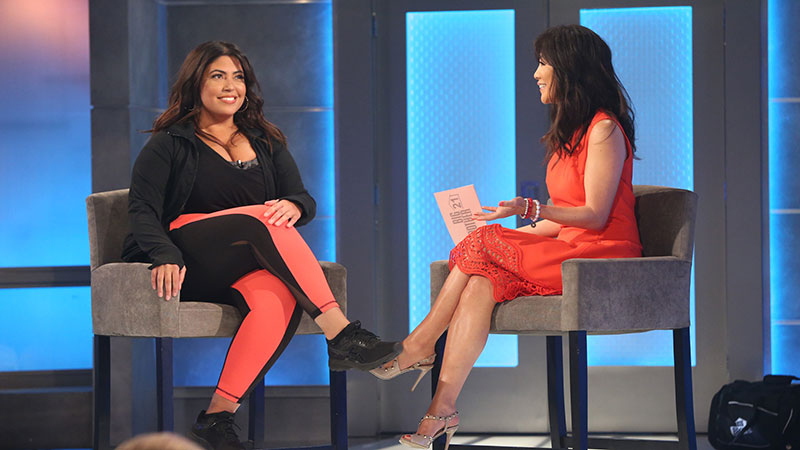 At the first live eviction, it was Jessica who was sent packing
.
During the live HOH competition, the HGs had to complete a puzzle and score a hockey goal, which Nicole did first, making her the winner. In the aftermath, she scrambled to strategize her nominees.
Nicole nominated Christie and Tommy for eviction. The live Veto competition was "What the Bleep?" which Cliff won and didn't use.
During the next live eviction, it was Christie who was sent home
.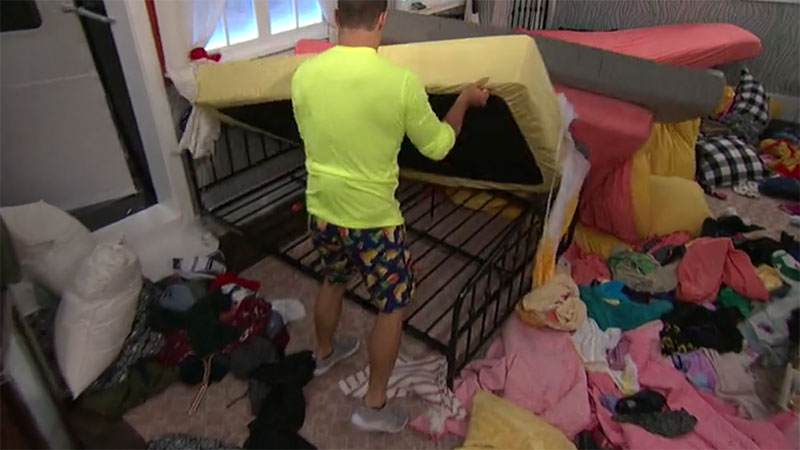 Episode 31 / POV: Tommy / Nominees: Cliff and Jessica
Jessica got emotional about her nomination.
Holly and Michie got into an argument after Michie shot down some of her ideas.
In addition to Michie, Christie, and Jessica, Nicole, Tommy, and Cliff were chosen to play in the Veto comp.
Holly was concerned that Michie was still shutting her out after their argument and confronted him, but it made things worse.
Holly vented to Christie about it and then went to talk to Michie again, which did not go well. Holly was overcome with emotion, which made Michie angrier, and
the showmance seemed to come to an end
.
At the Veto competition, the Houseguests had to hide a life preserver inside the house, which the other HGs had to do their best to find—
tearing the house apart in the process
. The HG who hid their life preserver best would win the POV, which wound up being Tommy.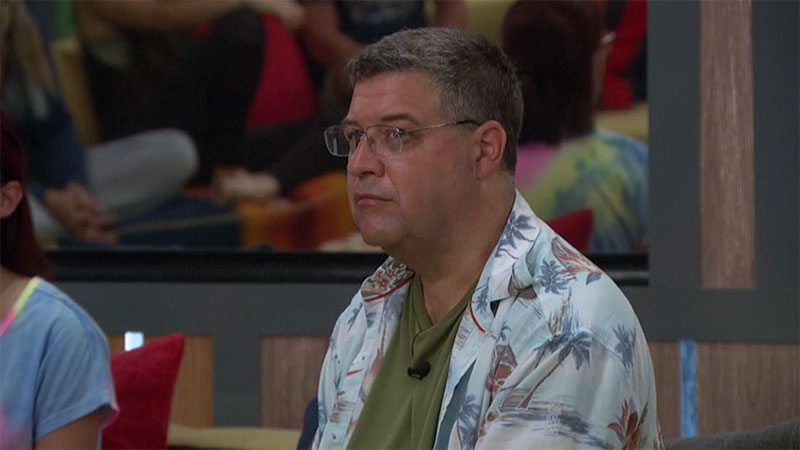 After the Veto comp,
Holly and Michie made up
.
At the Veto meeting, Tommy decided to use the POV on Christie, which caused
Michie to put up Cliff as a replacement nominee.
Episode 30 / HOH: Michie / Nominees: Christie and Jessica
The Houseguests clung on for dear life in a test of endurance, hoping to win HOH. In the end,
Michie held on the longest and began his second reign as Head of Household
.
Nicole was disappointed in herself for losing, fearing that she wasn't building a strong resume to win in the end.
Michie told Christie he wanted to use her as a pawn this week, in an effort to get Jessica evicted.
Christie and Nicole commiserated about missing home
.
Michie and Holly snuggled and talked about their next moves, and Holly suggested maybe targeting Christie was a smarter play.
Tommy revealed to Christie that Michie promised him safety for the week.
Cliff talked (and danced) with his wife through the Live Feeds
.
Michie told Jessica he considered her a mental threat in the coming weeks, trying to low-key tell her she was going on the block, but she wasn't picking up what he was putting down. Finally, he just outright told her.
At the nomination ceremony,
Michie put Christie and Jessica on the block
.
Episode 29 / Evicted: Nick
After the Veto meeting, Christie campaigned for herself to stay.
The Pie Pranksters were at it again, but Michie turned the tables on Nicole, which
ignited a pie war
.
Nick tried to secure Tommy's vote, but Tommy told him his allegiance is to Christie. Nicole reminded Nick that Tommy said the same thing about Jack, and Jack was still gone.
Nicole suspected that something was going on between Christie and Tommy beyond an alliance.
Prank Week continued as scary clowns peeped in on the Houseguests
. The HGs took the opportunity to scare Nicole and the clowns obliged.
Nick appealed to Michie and Holly, promising to keep them safe if he stayed.
Julie checked in with the HGs at the Jury House.
At the live vote, Nick and Christie gave their speeches, but the HGs ultimately
voted to evict Nick in a vote of 5-0
. With Nick's exit, Prank Week came to a close.
The HGs began the HOH competition,
a test of endurance to hang on for as long as possible
.
Episode 28 / POV: Michie / Nominees: Nick and Christie
The HGs tried to figure out who America's Prankster was.
Cliff, Nicole, and Jessica continued their pie punishment, this time making pies for the entire house and delivering everyone a pie to the face.
In addition to Nick, Christie, and Holly, Michie, Cliff, and Jessica were chosen to play the Veto competition.
Zingbot entered the BB house to deliver sick burns to the Houseguests
and hide out from the authorities of Planet Zing, but they caught up to him. At the Veto competition, the HGs had to try to free Zingbot in order to win the Power of Veto.
They had to maneuver a ball across a board in a game of balance and skill, but it was ultimately Michie who squeaked out a win.
Nick was disappointed in Michie for not throwing him the comp, but
Michie figured out that Nick was America's Prankster
. Nick tried to use this to his advantage by convincing Michie that he's had his back even when Michie wasn't looking.
Nick also told Tommy he was America's Prankster.
The tense Veto meeting was interrupted by the pie punishment,
which forced Michie to take some more pies to the face
.
After he cleaned up, he decided not to use the Veto.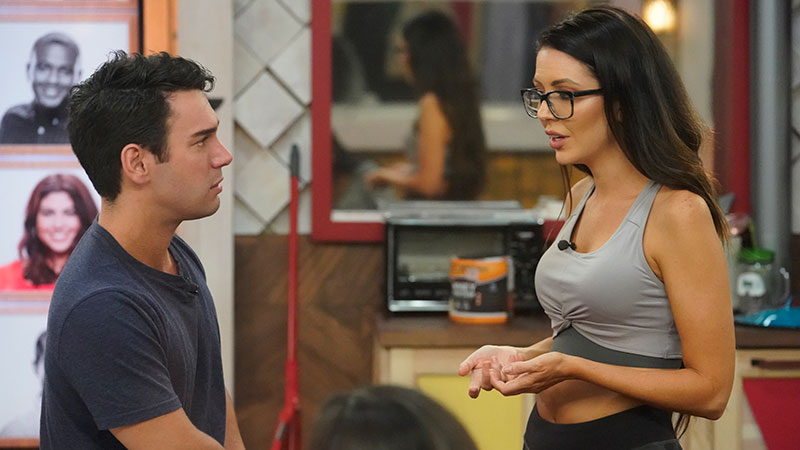 Episode 27 / Nominees: Nick and Christie
Christie was emotional about cutting deals to save her own game meanwhile condemning Sis to eviction.
Before the last vote,
Christie went to Michie and Holly about being used as an asset for Michie's game and convinced them to flip the vote
.
Nicole, Cliff, and Jessica's punishment for the week meant they had to make pies on demand and then smash it in the face of whoever they were told—
usually themselves
.
Holly considered putting Christie up as a pawn against Nick, which Christie wasn't happy about. Holly and Michie were annoyed at Christie's resistance to the idea after keeping her safe the week before.
Michie celebrated his intense love of watermelon
.
In the middle of the night, Big Brother woke up the HGs to reveal America's Prankster, who would be able to secretly name one of the nominees and the potential replacement post-Veto.
This new information required Holly to rethink her entire gameplan. Nick tried to cut a deal with Holly for not going on the block, but she was suspicious of it, worried that America's Prankster could wind up putting Michie on the block during her HOH.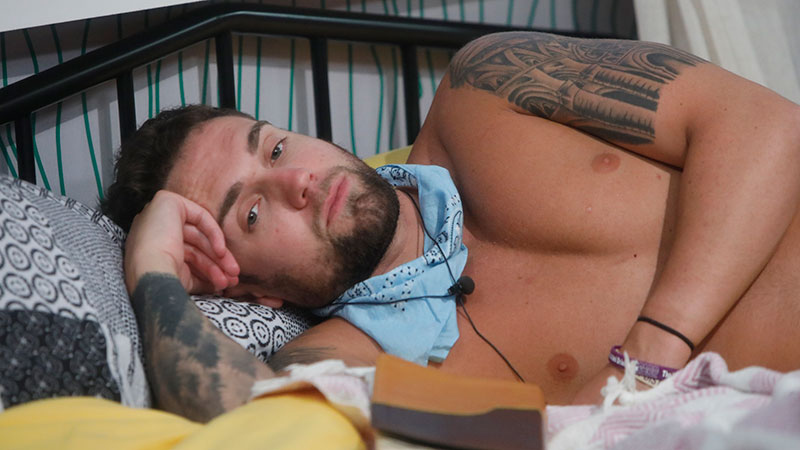 The house reacted to Christie's bad habit of loud chewing.
Nick found out that he was voted America's Prankster
.
At the nomination ceremony, Holly revealed her nominee to be Nick. Secretly, as America's Prankster, Nick nominated Christie.
Episode 26 / Evicted: Sis / HOH: Holly
Christie tried to do damage control without throwing Sis under the bus. Instead, she talked to Michie about Nick's duplicitous nature.
Michie suggested Christie blow up Nick's game during their weekly Taco Tuesday meal. Nick found out about that plan and fumed about it to Michie.
Before Taco Tuesday, Nick confronted Christie and the argument blew up in front of the whole house
. After the fight, Holly considered keeping Christie to have an ally against Nick in the future.
At the live eviction,
the house voted for Analyse to leave the game
.
Julie revealed the Houseguests had been memorizing bird sounds before the live vote, which they thought was for a memory-based HOH competition.
But then Julie revealed BB Prank Week
, which meant the bird sounds actually meant absolutely nothing.
Unknown to the HGs,
America would also vote for America's Prankster,
allowing the winner to manipulate one of the HOH's nominees.
At the actual HOH competition, the HGs had to roll a ball down a narrow ramp for the highest score,
which Holly won
. As the Houseguests with the lowest scores, Jessica, Nicole, and Cliff earned a punishment.
Episode 25 / POV: Michie / Nominees: Sis and Christie
Sis was livid about being put on the block.
Holly tried to talk to the nominees but Sis gave her the cold shoulder
.
Tommy was sad that his two closest friends were on the block, but he focused on his relationships with Michie and Holly.
Michie and Holly reinforced each other's feelings about the nominations and targeting Christie.
Jessica, Christie, and Sis suspected that Nick was the puppet master behind the current state of the house.
Sis decided that she'd use the Veto on Christie if she won, confident that she would get the votes against anyone else on the block, but Nick told her that was a bad idea.
Sis confronted Nick about working with the other side of the house, which he denied.
Cliff, Nick, and Holly joined Sis, Christie, and Michie to play in the Veto competition.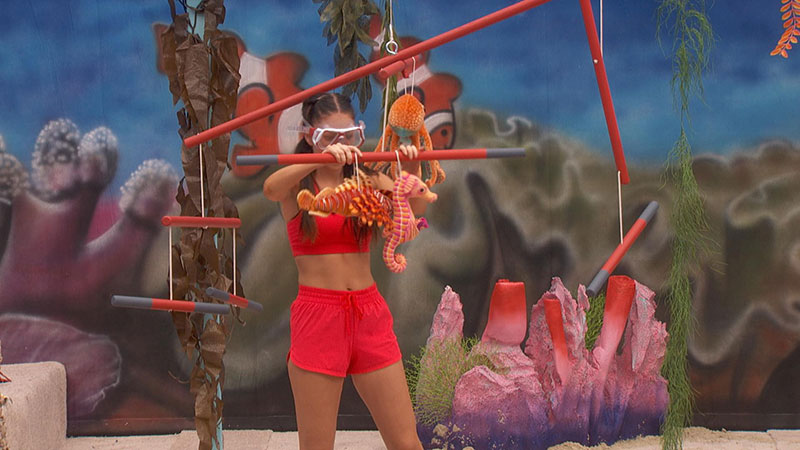 Tommy confronted Nick about his loyalties, which angered Nick, and bubbled over into a larger argument with Christie and Sis.
Tommy and Christie shared a nice emotional moment in the bathroom (kind of)
.
At the Veto competition, the HGs had to complete a balancing mobile puzzle by collecting sea creatures. Ultimately, Michie pulled out the win.
After the comp, Tommy and Holly did a silly lifeguard sketch which really upset Christie.
Christie tried to appeal to Michie and Holly in order for her to stay. Holly and Christie got emotional while Michie remained unmoved.
At the Veto ceremony,
Michie chose to keep the noms the same
.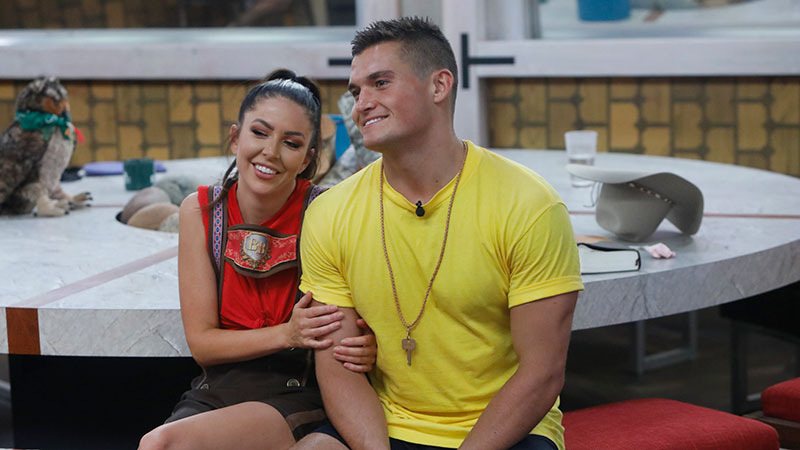 Episode 24
/ HOH: Michie / Nominees: Christie and Sis
The BB classic Slip-n-Slide competition continued as the HGs fought for HOH
, which Michie eventually won.
Jessica revealed that before Kat's eviction, she told Sis that she knew about the new alliance and that Holly said Sis was flirting with Michie.
Sis confronted Holly about this information, which turned into a bigger discussion about the new alliance and their targets of Michie and Holly... which Michie and Holly overheard.
Talking with Holly about potential nominations, Michie considered Christie and Sis.
Holly teased Michie about his "Jacksonalogies."
Sis struggled to understand the summer solstice.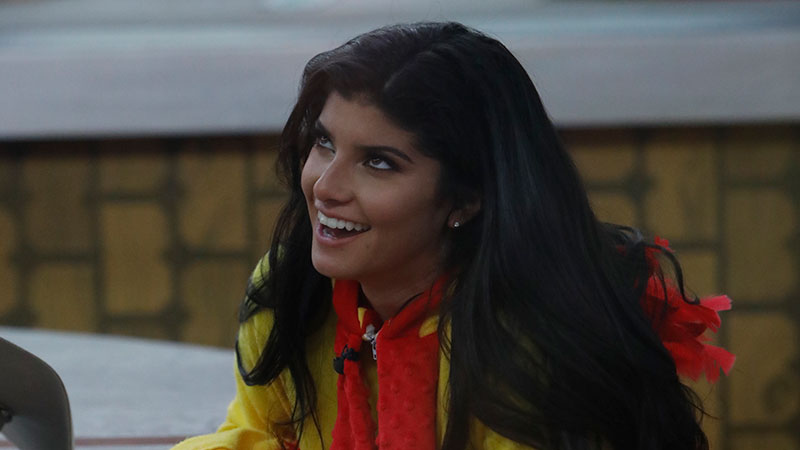 Christie tried to appeal to Michie about staying off the block and later almost let it slip that she and Tommy knew each other before the game.
Sis felt relieved to find out that Christie was Michie's true target.
Sis continued her chicken punishment, which involved laying her eggs, cooking them in different ways, and feeding them to the Houseguests at all hours of the day
.
Michie began to feel concerned about Nick and considered nominating him.
At the nomination ceremony,
Michie revealed he was putting Christie and Sis on the block for eviction
.
Episode 23 / Evicted: Kat
Cliff and Kat consoled each other about being on the block.
Kat tried to campaign for votes to stay.
Tommy, Nick, and Christie talked about forming a new six-person alliance with Sis, Nicole, and Cliff
. Nick presented the idea to Cliff, who considered it even though it would mean betraying Jessica and Kat.
Nick talked to Nicole about how she's the swing vote for the week and tried to convince her to vote for Cliff to stay.
Holly and Michie were concerned that they were secluding themselves too much.
Kat continued to campaign to Nicole, who got emotional that she had to make a choice between two of her closest friends
.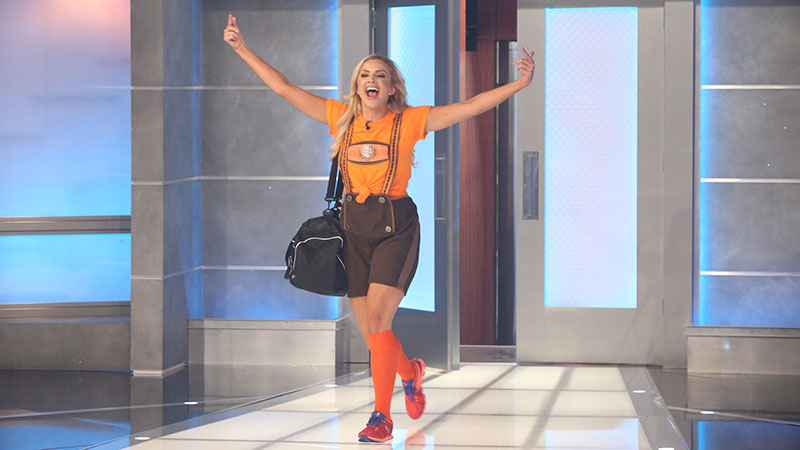 Cliff presented the Final 6 alliance idea to Nicole, who didn't feel great about it. Nicole told Jessica this information, who was very disappointed and upset to be left out. Nicole suggested they could flip the vote and put the other group off their guard.
Even though she told Nicole she wouldn't say anything, Jessica told Kat all of that information.
Kat confronted Cliff about making a side deal and that she was disappointed in him.
Jessica also told Holly about the new alliance of six, who then passed it on to Michie.
Before the live vote, Kat tried to throw Cliff's game under the bus.
In a vote of 6-1, Kat was evicted
.
The Slip-n-Slide HOH competition began.
Episode 22 / POV: Tommy / Nominees: Cliff and Kat
The nominees started gearing up to try and win the Veto competition.
Kat got very emotional about being on the block
and Jessica, Michie, and Cliff comforted her.
Christie wrestled with the idea that she became a nominee on her best friend's HOH. Jessica and Nick comforted her.
Tommy and Nick showcased their cuddly bromance and Tommy's BB Explorer punishment finally ended.
In addition to Tommy, Christie, Kat, and Cliff, Nick and Michie were chosen to play in the Veto comp.
Before the Veto, Cliff hyped himself up with some
killer dance moves in the living room
.
Sis tried to reunite her former alliance, feeling alone with Jack out of the house. She and Michie agreed that they should try to get Christie out.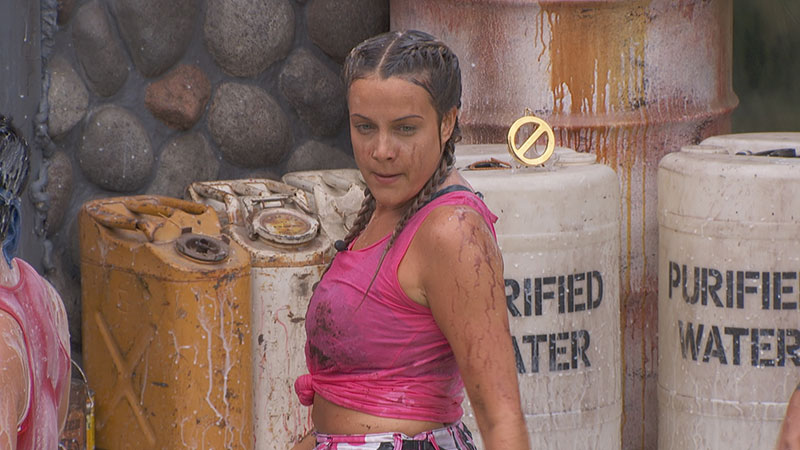 The Veto comp turned out to be the BB staple known as OTEV
—taking the shape of a paranoid pigeon—who required the HGs to collect items based on clues they receive.
The last player remaining won the POV: reigning HOH Tommy!
At the Veto ceremony,
Tommy used the golden power of Veto to take Christie off the block
.
Episode 21 / Nominees: Christie, Cliff, and Kat
Tommy and his alliance members celebrated his HOH win.
Cliff and his allies weighed the consequences of Tommy becoming HOH.
Michie went to Tommy to try and get a read on who his target would be, mostly to try and protect himself.
Tommy and Christie talked about targeting Kat for eviction.
Cliff talked with Tommy about being a pawn for the week in order to take aim at his true target. Tommy said he wanted to use the week to build a relationship with Cliff.
Kat opened up to Michie about her feelings, thinking she might be a target.
Kat confronted Tommy about the rumors that Six-Shooters were going to reunite, which he denied, but Kat wasn't falling for it.
Big Brother revealed the America's Field Trip competition to the Houseguests
, wherein the winner would be safe from eviction for the week, the second-place finisher would receive a punishment, and the third-place finisher would be an automatic third nominee.
Michie, Sis, and Christie were selected for America's Field Trip. At the competition, the HGs had to work hard to maneuver four eggs to knock over letters spelling "SAFE" while being stuck inside a chicken coop.
Michie came in first, earning safety for the week
. Analyse came in second to get a punishment, and Christie came in last, making her an automatic third nominee.
Michie and Holly celebrated in the pantry, while Nick promised Christie that he'd use the Veto on her if he won it.
Sis' punishment required her to wear a chicken costume for a week.
Before the nomination ceremony, Kat tried to convince Tommy not to put her on the block.
At the ceremony, Tommy nominated Cliff and Kat for eviction, joining Christie
.
Episode 20 / Evicted: Jack / HOH: Tommy
The Jacks (Jack and Michie) faced off as this week's nominees for eviction.
Julie reminded us that this week's evictee will be the first member of the Jury. This means the winner of
Big Brother
21 is among the remaining Houseguests and their challenge is to send the others to Jury while still convincing them to vote for them on Finale night.
In a twist of irony, aside from being on the block, both Jack and Michie were assigned punishments after losing the Veto challenge.
Michie became an on-call Area 21 alien doctor
. At any point in a 24-hr period, he could be called upon to perform an alien autopsy. Turns out the insides of aliens are quite colorful and slimy.
After spending a full day sleep-deprived and covered in goo, he was finally reprieved of his duties and allowed to clean himself up.
Jack, on the other hand, also endured 24-hrs of discomfort. His Area 21 Punishment was to be harassed for 24-hrs by Big Al the Alien. As an alien sent to observe human behavior, Al especially was interested in seeing Jack clean, fetch balls, and do his best to absorb food through his head.
Needless to say, Al left his (messy) mark on the house.
The alliance formerly-known-as The Six Shooters met in the Have-Not room
to see if they could mend some of the damage that was done the previous week. Jack admitted his fault in betraying Michie's trust and Christie and Tommy did their best to engender good feelings.
But Michie took their apologies and offered none of his own, reiterating that he was at no fault in their current situation.
Meanwhile, Jack's plan for campaigning involved winning Nick and Cliff to his side. Cliff heard Jack's promises for four weeks of safety from eviction, weighing whether it may be worth it to keep Jack around.
In their eviction speeches to the Houseguests, both Jack and Michie kept things clean with Jack pointing out his favorite traits of each of the Houseguests and Michie maintaining that he is loyal and playing an honest game.
In a vote of six to two, Jack was evicted from the
Big Brother
house.
Sitting down with Julie,
Jack explained that he chose to stick by Christie and Tommy
over Michie and has no regrets. Despite his bromance with Michie, Jack had decided that Christie and Tommy were his ride-or-die partners in the game.
Julie confronted Jack on the things he said while in the
Big Brother
house, showing him clips of the remarks he made about Kemi and then later Bella. Jack responded as adamantly as he could that his remarks weren't meant to be personal attacks and that he does wish he could go back and change what he said.
Jack and Julie both agreed that Jack was about to get a lot of alone time in the Jury house, a good time for contemplation.
Meanwhile, the Houseguests went off to compete in
this week's Head of Household competition: Time Me A River
. The Houseguests had to slide down the river in a kayak, crossing the finish line as close to 9 seconds as possible.
Christie got very close at just .19 over 9 seconds. But Tommy—who was celebrating his birthday—beat her time at .10 within 9 seconds. Analyse came close at .14 but couldn't dethrone Tommy's time and he was crowned the week's HOH!
Of course, neither Tommy or any of the other Houseguests knows that America's Field Trip will greatly impact his HOH in the coming week as three Houseguests are chosen to compete. The winner gets immunity for the week, the loser will go on the block, and second place will have a punishment.
Watch Julie's extended interview with Jack
for more insight into his downfall.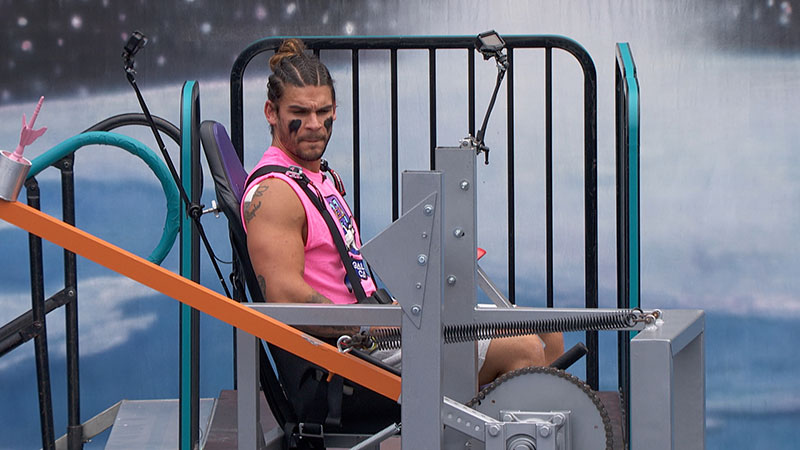 Episode 19 / POV: Jessica / Nominees: Jack and Michie
Sis told Jack she felt bad for Michie because everyone was ignoring him after the nominations.
Jessica told Holly and Kat that Jack was her true target.
Jessica, Michie, Jack, Kat, Tommy, and Nick were all chosen to play in the Veto comp
.
Christie told Jack that her number one priority was getting Michie out, while Holly and Michie pondered if Christie would use her power at the Veto meeting.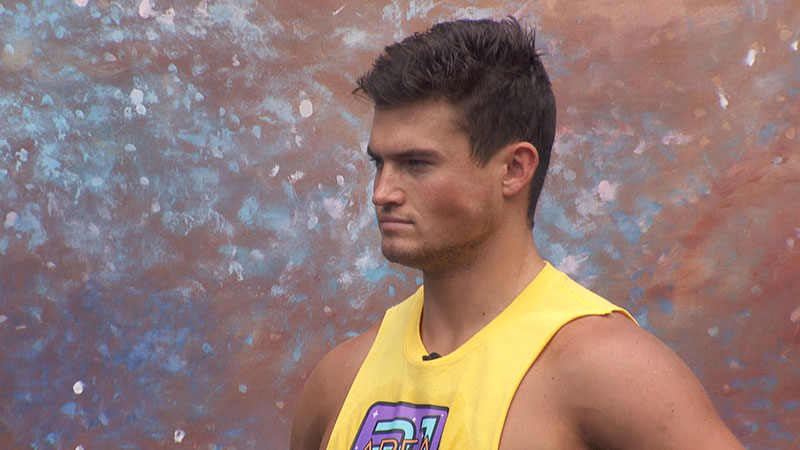 During the Veto comp, the HGs had to launch rockets onto a board for points—but only after being spun around rapidly to make them dizzy. The HGs all received different placements in the comp and had to trade among themselves for the POV and various prizes--and punishments.
In the end,
Jessica won the POV, Nick won $5,000, Kat won a trip to Hawaii, and Tommy, Jack, and Michie wound up with punishments
.
Jessica found out that Nick was planning on evicting Michie instead of Jack as they previously discussed. Michie told Jessica that Nick was trying to maneuver the vote behind her back, which angered her. She considered taking Michie off the block and replacing him with Nick.
Tommy began his BB Explorer punishment, which required him to wear a rocket costume for a week and burst into every single room in the house whenever told—even in the middle of the night or in the middle of the Veto meeting.
At the Veto meeting, Jessica chose not to use the POV
.
Episode 18 / HOH: Jessica / Nominees: Jack and Michie
In a flashback to the events that took place before the Sam vote, Michie told Jack that Kat and Holly knew each other outside of the house.
Jack told Tommy this information, and Tommy suspected that Holly, Kat, and Michie are all in on the secret together as a trio. Jack and Tommy then told Christie.
This information sparked a discussion to try and vote Kat out instead of Sam
.
Michie confronted Jack about his suspicions that the vote was going to be flipped, meanwhile Holly confronted Tommy, who told her the rumor that Michie started.
In the boat room, Christie, Michie, Jack, Tommy, Sis, and Holly confronted each other about the distrust within their alliance, and the entire house could hear everything
.
Kat tried to convince the group that there was no trio, but they didn't seem to buy it.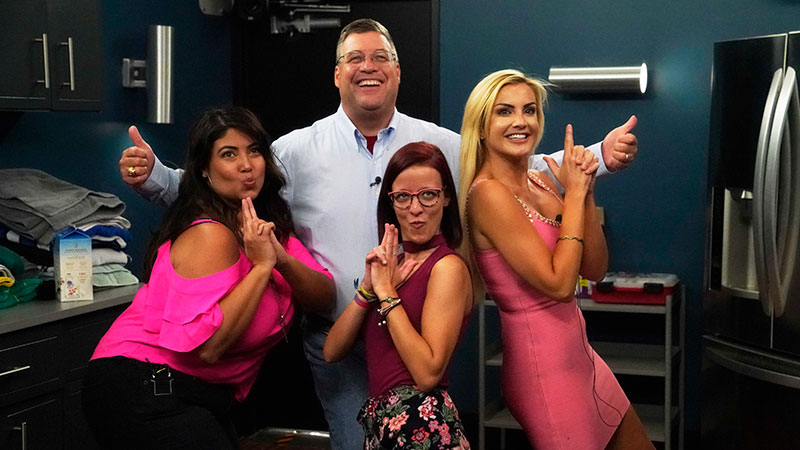 Jessica and Cliff tried to figure out what to do with this new information.
The former Six Shooters continued arguing in the bedroom, but Christie and Jack had a side convo and decided that Kat should stay.
After the vote, at the HOH competition, the Houseguests competed in a memory challenge. Michie was the first person eliminated, which he felt didn't bode well for him.
After whittling down the HGs, it was between Jessica and Kat. In the end, it was
Jessica who won her first HOH of the season
.
The majority side of the house became concerned about what Jessica would do.
Jessica, Kat, Nicole, and Cliff celebrated in the pantry
and saw an opportunity to take advantage of the fracture on the other side of the house and commit to an alliance.
Jessica was committed to making a big move, and at the nomination ceremony, nominated Michie and Jack for eviction.
Episode 17 / Evicted: Sam
Sam and Sis reflected on Sam's nomination.
Tommy and Christie commiserated about their punishment, but they were finally "cured."
Kat tried to get in Holly's ear by revealing Christie's proposal for a final six that excluded the couples in the house. Sis and Holly complained about Christie's loose lips.
Christie and Cliff discussed picking apart the Six Shooters alliance when the time was right.
Sam made a last-ditch effort to save himself by revealing some dirt about Christie's willingness to put up Michie and Jack the week prior if she had won the Veto. Michie talked with Holly about keeping Sam.
Holly regretted her nominees because she had listened to Christie
.
Julie greeted the Houseguests before the live vote and checked in with Nicole and Cliff before
revealing footage of the dance routine Tommy had been teaching his housemates
.
Kat and Sam gave their speeches, but in a unanimous vote,
it was Sam who was evicted from the BB21 house
.
Big Brother revealed the BB Field Trip vote, which America can vote for now
.
At the start of the HOH competition, Julie revealed that the remaining HGs have made it to Jury.
Episode 16 / POV: Nick / Nominees: Sam and Kat
Sam was shocked about his nomination, but
Nick wasn't surprised at all
.
Kat talked to Holly and floated the idea of going up as a pawn if one of the nominees gets pulled off the block after the Veto. Holly agreed.
Holly, Nick, Sam, Tommy, Cliff, and Jessica were chosen to compete in the Veto. The Houseguests were surprised with a flock of sheep and learned the Veto Competition required them to literally face off against one another herding the animals. After a lot of counting sheep, Nick managed to snag the Veto.
The Six Shooters tried to figure who Holly should put up when Nick inevitably removed himself off the block. Even though Kat already offered herself as a pawn, Holly considered putting Nicole up instead.
Meanwhile, Tommy and Christie entered the next phase of their Poison Ivy punishment and were forced to wear calamine lotion head to toe, which reminded the HGs of flamingos. Unfortunately for Nicole, that triggered her fear of birds.
Sam took Holly aside and tried to throw the target on somebody else which had Holly again considering Nicole, but that rubbed Christie the wrong way. On the other hand,
the rest of the alliance were annoyed that Christie was annoyed
.
Michie, in particular, felt he was being accused of scheming and went to "clear the air" with Christie, despite Holly asking him not to. Holly hashed things out with Christie and Tommy, but was annoyed with Analyse for blabbing about it to everyone.
At the Veto meeting, Nick took himself off the block and
Holly nominated Kat as a replacement nominee
.
Episode 15 / HOH: Holly / Nominees: Sam and Nick
The Houseguests literally hung in there during the
Pose In Ivy HOH competition
where moving vines made balancing more and more difficult.
Jessica was the first to drop with Nicole right behind her. Sam and Nick held tight, aware that they were the Houseguests with the biggest targets on their back.
But when Sam lost his footing, he quickly fell to the ground, followed by Christie and then Nick. After being doused with bright pink calamine lotion slime, Jack was next to drop, followed by Tommy.
Kat, whose relationship with Michie had been getting increasingly tenser throughout the season, held out long enough to beat Michie. After Michie dropped, she got assurances from both Sis and Holly that she wouldn't be nominated and let herself drop.
Sis and Holly started negotiations about which of them wanted HOH more, but anytime Holly came close to giving it to Sis, Michie would chime in that she should hold out. After two hours, Sis dropped and
Holly became Head of Household for the week
— though not without some bitterness toward her two allies.
Christie and Tommy pulled the Poison Ivy Punishment chips from the First Aid Box, speculating what this would mean for them later on.
Sam and Nick wondered to each other
whether they would be nominated, each feeling they were very likely Holly's primary targets.
Sis complained to Christie and Tommy that Michie had been overbearing, egging Holly on during the HOH competition, and vowed to stop working with the couple if Holly didn't nominate Nick.
Holly was excited to get her HOH room and find pictures of her family and a letter from her mother.
Christie and Tommy further discussed there growing irritation with Michie, deciding they couldn't see themselves getting to the end with him.
Michie affirmed Holly's initial thoughts on putting up Nick and Sam, discussing a possible option to put Nicole up as a pawn against Nick or Sam.
Kat revealed that she's a conspiracy theorist
, positing her iffy opinions on everything from the moon landing to the existence of aliens.
Christie and Tommy were called in
to receive their Poison Ivy punishment
, excited that at least they were together for it.
The two of them returned wearing swimsuits with ivy and covered in red splotches. They explained to the other Houseguests that not only would they be quarantined inside the house for the next four days, but they were also not allowed to shower in that time period.
Sam campaigned to Holly not to nominate him, doing his best to disassociate himself from Nick.
Meanwhile, in the privacy of the HOH Michie and Holly discussed the beginnings of a fissure in their alliance, setting their sights on Christie because of the strength of her social game.
Holly called everyone to the Nomination Ceremony where she put aside her idea to use a pawn and instead went directly for her two biggest targets.
She nominated Nick and Sam for eviction.
Of course, both men vowed to compete hard for the Veto and a chance to save themselves.
Episode 14 / Evicted: Bella
Julie reminded us of the Powers that have been used and the one that still remains—Christie's Panic Power—noting that power can shift very quickly in the Big Brother house.
Nick tried to reason with Cliff about the foolishness of his move to put up Bella, pointing out how untrustworthy the alliance of six can be and how they voted him out of the house just last week.
But Cliff continued to look out for his own game, and Nick and Bella shared a tearful moment after the nomination. They each vowed to do what they could to keep Bella in the house.
Jack and Michie commended Cliff on his trustworthiness and
Cliff informally solidified an alliance
with the Six Shooters for at least the next few weeks.
Cliff revealed to us that really he just wanted safety until the alliance begins to turn on itself.
Kat and Holly have a secret friendship inspired by their shared pageant history and revealed they recognized each other from outside of the house. Kat proposed a Final Two and Holly hesitantly agreed, hoping she can truly trust Kat.
Bella and Cliff discussed what he would do in the event of a tie. He affirmed to her that Jack continued to be his primary target, but he left it ambiguous to the audience, meaning that he could surprise everybody.
Bella campaigned to the Houseguests, positing that Jack was the bigger threat competition-wise and that Bella would be an easy target the following week. The other Houseguests were non-committal at best.
We traveled to Texas to see Cliff's family
, who were all extremely proud of his comeback last week and his HOH this week. He's proved himself a force to be reckoned with in the BB house, and his family isn't the least bit surprised.
His wife, Sharon, and children, Daniel and Kelly, reiterated that Cliff is a genius in his field, well-traveled, and a fierce competitor.
Jack and Bella gave their eviction speeches
then the Houseguests cast their live votes. Bella was evicted from the house by a vote of 8 to 2—Sam and Nick being the two votes in her favor.
Bella joined Julie on-stage
but first watched a few moments of Nick's reaction, seeing as he cried in an embrace with Sam.
Julie asked Bella who she felt most betrayed by. Bella confided that she thought Christie was the one leading the charge to backdoor her.
Bella also admitted she shouldn't have jumped to conclusions when Nicole told her things she didn't want to hear and should have given Nicole the chance to defend herself.
Of course, Julie had to point out that Bella's tendency to share information quickly and to all the wrong people worked against her. Bella heartily agreed that she hadn't played the game well in regards to her loose lips.
Still, Bella acknowledged that she hadn't left the
Big Brother
house empty-handed and feels that what she has with Nick will continue well past BB21.
The goodbye messages recorded by her fellow Houseguests brought Bella to tears. Nicole accepted Bella's apology for her gameplay and Nick expressed his devastation at losing Bella.
Then it was time for the
live Head of Household competition, Pose In Ivy
. The Houseguests were tasked with holding on to hanging vines attached to their feet and hands.
Everyone who fell off had to pull a chip from the punishment box and two of them would be given the Pose In Ivy Punishment, to be revealed later. The competition played out live on the
Big Brother Live Feeds
.
Meanwhile,
Julie sat down for an extended interview with Bella.
Episode 13 / POV: Michie / Nominees: Jack and Bella / Have-Nots: Michie, Kat, Christie, Tommy​
Cliff's big move to put up the powerhouse duo of Jack and Michie shook up the Six Shooters. Both Christie and Tommy were emotional at the thought of losing Jack.
This unexpected situation immediately put Christie in the hot spot among her alliance members as they pressed her to use her Diamond Power of Veto Panic Power.
As the Six Shooters discussed their options, Bella and Nick celebrated and thanked Cliff for not making the obvious choice to put them up.
If the Houseguests thought they were uncomfortable by the line Cliff had just drawn in the sand, they were about to see just how much more uncomfortable it could get.
Big Brother announced it was time for Have-Nots
and Cliff chose four Houseguests—Kat, Christie, Tommy, and Michie—to spend the week taking cold showers, eating slop, and sleeping in the former Camp Comeback room.
Jack let Michie in on his secret Chaos Power, boosting both their morales.
When the time came to choose players for the Veto competition, Jack surprised Cliff and invoked his Power. The Chaos Power allowed Jack to demand new Veto players be drawn, and Holly and Jessica were replaced by Kat and Analyse. Though, double-Veto winner, Sam, stayed among the players, causing Jack to sweat.
Cliff started to consider what it would mean if Christie used her Power, doing the math on votes for evicting his target, Jack.
This week's Veto challenge was
Take It Off
, where players were tasked with undressing on a jet ski while holding down three buttons. Release any one of the three buttons and time accrues on the clock at a faster rate.
The players got creative, holding down buttons with their heads, knees, and elbows while they undressed.
The competition was steep, and as host Tommy announced the final times it seemed as though Kat would be crowned the victor with a final time of 3:25. But Michie surprised them all with a finishing time of 2:59.
Knowing he could now save himself from eviction for the week, Michie turned up the heat on Christie, trying to get her to agree to use her Power. As the Veto winner, Christie's Panic Power would give Michie the ability to name the nominee replacing himself.
Christie, however, worried that she should save the Power for a situation where her own game was in jeopardy and decided to find an alternative way to hold on to it.
She took her concerns to Cliff and made a few hefty promises. Not only did she promise to use her Power to save Cliff in the following two weeks if he needed it, but she vowed not to nominate him for the entirety of the game.
The Veto Ceremony showed just where Cliff decided to place his trust. Michie did as expected and took himself off the block. Christie sat tight and did not invoke her Panic Power.
Cliff apologetically
nominated Bella as Michie's replacement
alongside Jack.
Christie was thrilled to have held tight to her Power, convinced Cliff to take responsibility for nominating Bella, and made it all the easier to keep her ally Jack safe for the week.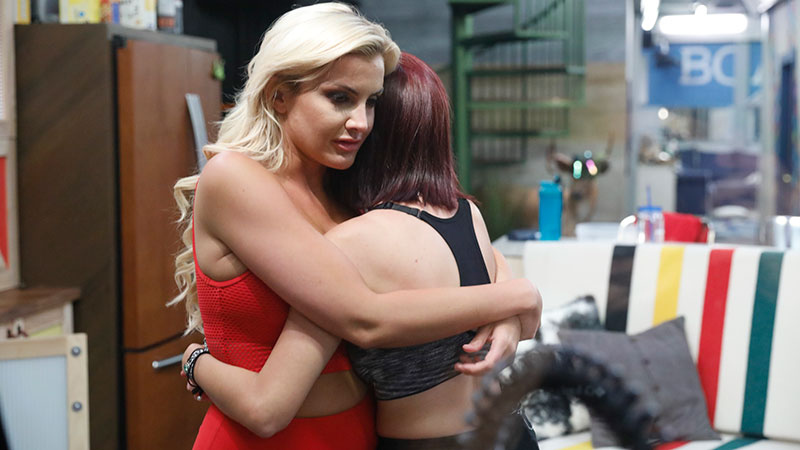 Episode 12 / HOH: Cliff / Nominees: Jack and Michie
Nick felt betrayed by his alliance blindsiding him with the vote to evict Cliff. Kat was sad that David was evicted after forming a strong connection with him.
Nicole celebrated surviving her brush with eviction and Michie made sure to tell her that he was responsible for keeping her around.
Nick and Bella freaked out about the rest of their alliance flipping the vote and
Unde9able self-imploded
.
Michie and Holly approached Cliff about being in an alliance, but Cliff was distrustful of them knowing that they'd voted for him to be evicted.
At the HOH competition, the Houseguests had to play a visual trivia game, which Cliff won. Nick was excited about this turn of events, while Jack and the other five who voted him out were concerned.
Cliff celebrated alone in the pantry
.
Michie hatched a plan to be a pawn in an effort to backdoor Nick or Bella by winning the Veto and having Christie use her Chaos Power to allow Michie to replace the nominees.
Cliff told Jessica, Kat, and Nicole that he wanted to stick with them and wouldn't be putting them up.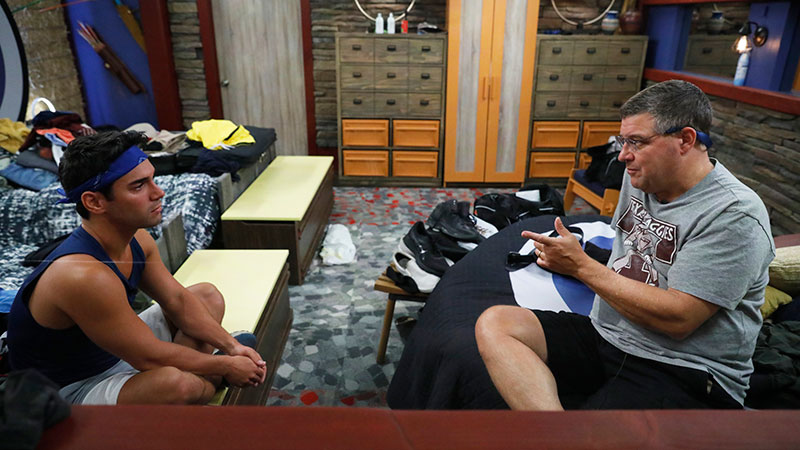 Michie and Christie pitched the suggested plan to Cliff, who weighed his options.
Jessica was grossed out when Michie took a cucumber snack into the bathroom and shared it with Jack.
The rest of the Houseguests tried to pitch Cliff, but he didn't forget that nobody talked to him after the previous week's nominations.
At the nomination ceremony, Cliff put up Jack and Michie for eviction
.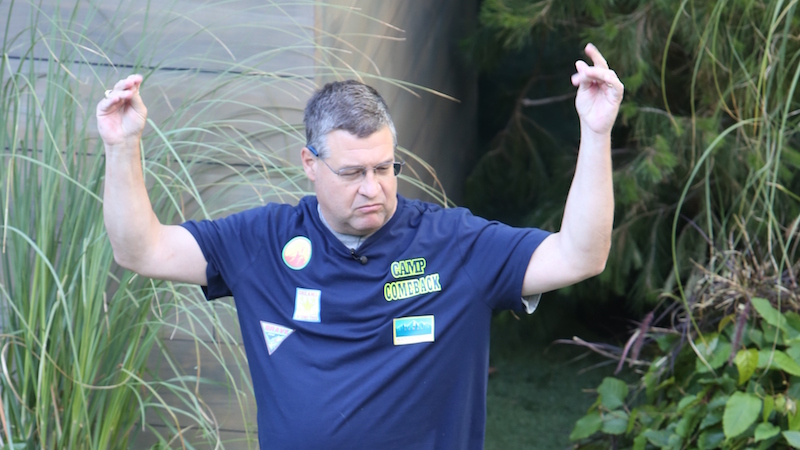 Episode 11 / Evicted: David, Ovi, Kemi / Comeback: Cliff
Julie opened the show by reminding everybody it was time for Camp Comeback to come to an end, with one Houseguest winning their way back into the game—and three going home for good.
Nicole faced her prospects realizing that she didn't have anybody even if she wasn't evicted, while Nick assured Cliff that he would be safe.
Christie apologized to Nick for thinking that she would be put on the block, and in an effort to win back trust she revealed to Nick and Bella that she has the Diamond Power of Veto (giving the person with Power of Veto the ability to pick the replacement instead of the HOH).
Concerned about Nick and Bella, and never really feeling Sam as part of the alliance, a core group of Michie, Jack, Christie, Holly, Analyse, and Tommy decided to reconstitute a smaller alliance—the 6 Shooters.
In smaller side conversations among the 6 Shooters, Christie lobbied to vote out Cliff, fearing Cliff was more dangerous and figuring that voting out Nicole would only help Nick and Bella—who didn't see the flip coming.
Hanging out in Camp Comeback, David has clearly been laying the groundwork for his social game, and also has a target on Michie if he comes back. Ovi, meanwhile, has been struggling—except for making inroads with cookies (and Cliff).
Kemi, meanwhile, hasn't been a fan of anybody in the house besides Nicole, and they vented with each other about the other HGs. Kemi's top priority now seems to be taking down Jack.
In the live vote, Cliff lost the season's first split vote, 6-4.
Analyse, Jack, Christie, Holly, Michie, and Tommy voted out Cliff. Bella, Sam, Jessica, and Kathryn voted out Nicole.
The Camp Comeback Competition, "Path To Redemption," was a race to see who would be the first to navigate six balls along a curvy balance beam and into a receptacle.
With a steady hand, Cliff raced out to a four ball lead. Ovi managed to get one in, but
Cliff quickly sank two more to win with time to spare. Final score? Cliff: 6. Everybody else: 1
.
That means
David, Ovi, and Kemi were out, headed to an exit interview with Julie
. David and Ovi are rooting for Cliff, while Kemi is rooting for Sam (who happens to be the second choice for both David and Ovi).
Episode 10 / POV: Kat / Nominees: Cliff and Nicole
After Nick put Jessica and Cliff on the block, a growing alliance huddled in the HOH room to discuss the bombshell Nicole told Nick and Bella just before the nomination ceremony.
With the room turning on Nicole, it looked like Michie was successfully able to pin his rogue vote on her. Nick made up his mind to backdoor Nicole.
Stuck outside, Nicole realized her own mistake. Ovi felt she being treated unfairly and went to voice support for her, but talking through the door of the HOH room he clearly wasn't breaking through to this newly formed #Unde9able alliance.
David confronted Christie and Jack in the kitchen about what happened with Ovi, who walked in. Jack, who had just praised David for how he was acting in Camp Comeback, tried to keep a straight face while telling Ovi nothing was wrong for him.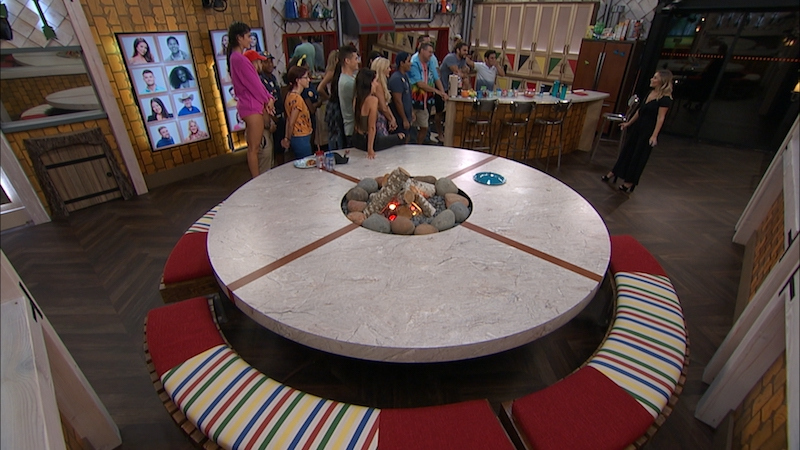 Bella and Nicole faced off, with Tommy on hand to mediate. Nicole felt hurt that Bella violated her trust. Bella lit into Nicole for losing HER trust, and didn't really give Nicole a chance to speak. Tommy began to wonder if Bella (and Nick) might have actually be the bullies.
The next morning, Nicole and Bella escalated their feud—this time with Nick and more HGs on hand.
The six-person Veto competition featured HOH Nick, nominees Cliff and Jessica, and random draws Jackson and Kat. The final draw, made by Jessica, was a Houseguest's choice. Mindful of her own game and how much drama was surrounding Nicole, she instead chose Christie to compete.
The competitors went to the backyard to play The Haunting of Kaitlyn Herman.
BB20's Kaitlyn surprised the competitors by sharing her own personal nightmare story—a puzzle game that had baffled her when she was on the show.
The first competitor to put a full set of Kaitlyn puzzle pieces together would win the power of veto. And that competitor was Kat—by a mile.
After some strange comments from Nick, Christie started panicking that he would backdoor her, telling Kat and Analyse that she was convinced she was going up.
At the Veto meeting, Kat used her power on Jessica, giving Nick the opportunity to backdoor Nicole
. Christie was relieved she didn't use her Power.
Episode 9 / Nominees: Cliff and Jessica
The Houseguests tried to figure out who cast the rogue vote for Kemi to stay, not knowing it was Michie, who planned on pinning it on Nick or Bella. But with Nick becoming HOH, Michie decided to tell him the flip vote was Nicole.
Kemi and Bella got in a heated argument about Kemi's speech on eviction night
.
Nicole talked to Michie and Holly about the rogue vote, and Michie sympathized with her even though he was the one setting her up.
Nick was skeptical that Nicole was the one who voted to keep Kemi, and began to suspect that it was actually Michie who did it.
Nick tried to calm down Nicole about the upcoming nominations.
Jessica, Analyse, Nick, and Christie competed in the Panic Whacktivity competition,
which required them to sift through thousands of hissing cockroaches in order to solve a puzzle
.
The winner with the fastest time was Christie, who was secretly given the Panic Power, which allows her to turn the golden POV into the diamond POV, allowing the Veto holder to not only remove a nominee from the block but also name the replacement. The power is valid for the next four Veto meetings.
Christie told Tommy that she won the Chaos Power and was interrupted by Jack, who also shared his power with Tommy.
Nicole started to suspect a large power alliance within the house. Kemi told Nicole about Christie discovering the Fellowship of the Zing. Nicole told Cliff about this turn of events.
Cliff suggested Nick use him as a pawn, which Nick said he was happy to oblige.
Meanwhile,
the HGs reflected on Kat's zaniness within the house and Kemi changed into her Camp Comeback uniform
.
Sam pitched Nick and Bella on making a big move and targeting a member of Gr8tful.
Nicole told Nick and Bella that Holly, Analyse, Jack, and Michie wanted to put Nick and Bella on the block if one of them won HOH.
At the nomination ceremony, Nick put up Cliff and Jessica for eviction
.
Episode 8 / Evicted: Kemi / HOH: Nick
Cliff, Nicole, and Ovi talked about forming an alliance, even though Ovi was out of the game.
Cliff dubbed them the Fellowship of the Zing
.
Meanwhile,
showmances started to form in the house
; Nick and Bella got closer as did Jack and Analyse and Michie and Holly.
Cliff went about his morning routine, which included getting coffee and talking about his strategy, alliance, and suspicions of the other HGs' relationships to the Live Feeders.
Unfortunately for him, Christie overheard the entire thing
.
Nicole told Kemi about how Bella spilled the beans on Black Widows.
Kemi talked to Michie about Bella playing both sides of the house in an effort to earn his vote to stay, which he then relayed to Jack along with the info Christie had discovered from Cliff.
Bella told Sam about her eight-person alliance, which took him by surprise. But Ovi interrupted before they could talk more about it.
Talking with Sam, Jack accidentally let slip his alliance's name.
Before the live vote,
Kemi tried to throw Bella and Nick under the bus for playing both sides of the house
. After the live vote, Kemi was sent out of the game in a 10-1 vote and sent to Camp Comeback.
At the live HOH competition, the HGs threw arrows at a giant target to try and get the highest score—or forego HOH and try to claim a cash prize of $5,000 or safety for the week.
With a score of 90, Nick won HOH
.
Episode 7 / POV: Sam / Nominees: Kemi and Jessica
After the nominations, Bella told Nicole that she was the one to tell Jack about Black Widow, who later relayed the info to Jessica.
Kemi took Jack aside to express her feelings about her nomination. Kemi told him she wanted to maintain a friendship, but in private, vowed to take him down.
Ovi and David tried to adjust to their new positions in the house. David displayed a good grasp on the house, being able to identify who was siding with who.
The Houseguests endured a California earthquake
.
David and Ovi revealed their Camp Comeback uniforms to the other Houseguests, which made them look like Boy Scouts.
Jessica opened up to Michie about her nomination, who comforted her but tried not to cross any lines in his partnership with Jack.
Jessica, Kemi, Jack, Bella, Michie, and Sam were chosen for the Veto competition. Kemi tried to psych herself up to win.
The doorbell rang and BB20's Tyler showed up to host the Veto competition
, revealing that the winner would not only win POV but a trip to Fiji!
In the comp, the HGs had to collect frogs from Lake BB and stack as many as they could on a pedestal. Sam won his second Veto—
and the trip to Fiji
—by stacking 18 frogs.
Jessica campaigned to Sam about using the Veto on her and Nicole walked in on them. Then Kemi grabbed Sam to campaign to him as well.
Sam was called into the Diary Room and told that his grandfather had passed away
. The other HGs did their best to comfort him.
At the Veto Meeting, Sam decided not to use the POV to change the nominations.
Episode 6 / Nominees: Kemi and Jessica
The Houseguests freaked out about the Camp Comeback twist
. David and Ovi tried to work their way back into the social structure of the house.
Nicole told Ovi that Jack and Michie never truly had his back.
Jack, Holly, Sam, and Tommy competed in the Chaos Whacktivity competition, which sent the HGs into a den of snakes. The HGs had to match three different live snakes in the fastest time to win a special power.
Jack had the fastest time and received the Chaos Power
, which allows him to force a new Veto draw if he doesn't like who was picked for a Veto comp. It can be used once and expires when there are six people left.
Winston, Brett, Bayleigh, and Swaggy C from BB20 showed up in a video message
, where they were on the set of Love Island in Fiji. The former HGs revealed that at the next Veto comp, one HG could win a trip to Fiji.
Michie and Holly started flirting but Kathryn crashed it and Michie grew frustrated with her. Michie told Kathryn that they should separate to preserve their game, which upset Kathryn.
Jessica, Kemi, Bella, and Nicole formed a women's alliance and called it Black Widow, but Bella went straight to Gr8tful to tell them about it. Jessica talked to Jack about nominations, but he revealed that he heard she was the mastermind of women's alliance.
At the nomination ceremony, Jack nominated Kemi and Jessica for eviction
.
Episode 5 / Evicted: Ovi / HOH: Jack
The Houseguests react to the replacement nomination, and Ovi and Kathryn begin campaigning. Christie told them both they were pawns and Ovi got emotional.
Cliff helped campaign for Ovi and Kathryn confronted basically everyone in the house for "conspiring against" her, which rubbed everyone the wrong way.
In a last-ditch effort, Ovi told Jack and Michie about the Nightmare Power
in the hope that they'd convince the others to keep him around in exchange for safety.
During the live vote, the house unanimously voted to evict Ovi
. However,
Julie revealed to the Houseguests the Camp Comeback twist
, which means the evicted HGs will continue to live in the house despite being out of the game.
They won't participate in competitions or votes, but they will continue to play the social game—and earn a chance to re-enter the game.
David re-entered the house as part of the twist, and he and Ovi were sent to their uncomfortable cabin while the other HGs competed for HOH, which Jack won
.
Episode 4 / POV: Sam / Nominees: Kathryn and Ovi
Kemi and Bella bonded in the lounge by talking smack about everyone in the house.
Gr8tful discussed the possibility of backdooring Kemi. Michie and Kathryn started flirting, despite Michie's insistence that he wouldn't get into a showmance. They stayed up late to hang out, and Christie took it as a sign that Kat was more interested in her relationship than getting herself off the block.
Sam, Jack, and Nicole were chosen to play the Veto alongside Chrisie, Cliff, and Kathryn.
BB20 winner Kaycee Clark visited the house to host the Veto competition
, in which the HGs had to endure a sloppy mess hall food fight to catch food items. Sam won the Veto by only a single point.
Gr8tful tried to talk to Sam about getting Cliff off the block to backdoor Kemi, but Christie was annoyed with how Jack was trying to run her HOH for her and wasn't totally sold on the Kemi plan.
Nick and Bella started to get close, and Bella vocalized that she wanted Kemi to stay.
Jack continued to try to sway Christie toward nominating Kemi if Sam used the Veto, but Christie got in her head about it and vented to Tommy and Nicole.
Christie revealed her disagreement with the plan to backdoor Kemi to Sam
, who was taken aback by the information and suggested Ovi as a replacement nominee instead. She weighed putting up Ovi versus making a big game move and putting up Jack.
At the Veto meeting,
Sam used the POV on Cliff and Christie put up Ovi as a replacement
.
Episode 3 / Nominees: Cliff and Kathryn
The Houseguests began trying to talk with Christie about the nominations.
Kathryn
started to believe she had a lot of power over Jackson, a.k.a. Michie, which rubbed Christie the wrong way.
Jack recruited Tommy and
Analyse
for his alliance,
which they dubbed Gr8tful
, but was overheard by
Ovi
. Christie presented Cliff with the idea of being a pawn on the block against Kathryn.
Kathryn was distrustful in Christie's proposal to go on the block, but played it off.
Ovi overheard Jack, Nick, and Tommy talking about their alliance in bed
. Ovi told Analyse about what he heard, but she deflected the situation and told her alliance about it.
BB introduced the Whacktivity Comps
—Chaos, Panic, and Nightmare—in which the HGs signed up for one of their choosing, with five competing each week for a secret power.
Holly, Tommy, Michie,
Sam
, and Jack signed up for the Chaos Whacktivity, which will happen in Week 2.
Analyse, Nick, Kemi, Jessica, and Christie signed up for the Panic Whacktivity, which will happen in Week 3.
Kathryn, Bella,
Nicole
, Cliff, and Ovi signed up for the Nightmare Whacktivity, which happened immediately.
The HGs competed in the competition,
which required them to identify rotten smells like rotten fish, bobcat urine, and fresh vomit
. After a few rounds, Ovi was secretly declared the winner.
Ovi received the Nightmare Power
, which gave him the power to cancel out the HOH's nominations by waking everyone up in the middle of the night to attend a new nomination ceremony, where the HOH will have to name two new nominees, keeping the original nominees safe for the week. The power will be valid for the first six nomination ceremonies.
Ovi unknowingly talked to four members of Gr8tful—Jack, Michie, Christie, and Analyse—to form an alliance of five.
At the nomination ceremony, Christie nominated Cliff and Kathryn for eviction
.
Episode 2 / HOH: Christie / Evicted: David
Jessica was shook that she didn't get the Camp Director votes like she thought she would.
People started campaigning to Jackson to stay in the house—except for
Kemi
.
Jackson told David he was considering putting him into the BB Wilderness as a pawn, in the hopes that he has an easy time fighting his way back into the house.
Julie called everyone into the living room for Jackson to make his picks. Jackson selected Cliff, Kemi, Jessica, and David, who were then removed from the house by a giant squirrel.
The banished HGs competed in a competition to find their way back to Camp BB in the dark
, understanding that the loser would be out of the game permanently. Cliff was the first HG to find his way back, followed by Kemi and Jessica.
Julie revealed to David that he lost the competition and was out of the house...
for now
.
Tommy and Christie talked about how to work together and keep their connection a secret.
Jackson,
Jack
, and
Nick
formed a strong connection and tried to recruit Christie,
Bella
, and
Holly
for an alliance—and they all agreed.
As Camp Director, Jackson had to pick the pairings for an HOH competition that required the Houseguests to compete in pairs, though only one HG will be able to win.
In an endurance competition, it was Christie who held on the longest, becoming the season's first HOH
.
Episode 1 / Camp Director: Jackson
Julie Chen introduced the theme of the new
Big Brother
house—Camp BB!
The 16 new Houseguests were introduced and moved into the BB house
.
Some attractions and connections started forming between the Houseguests as they toured the house.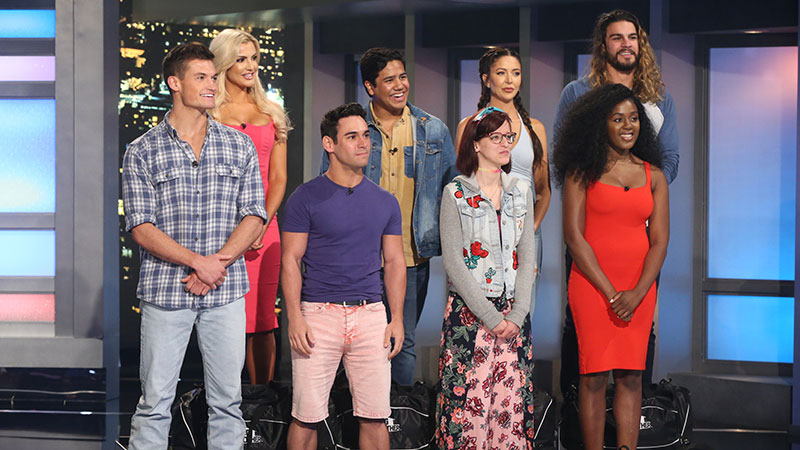 Tommy
revealed that he knew
Christie
because she dated someone in his family for many years, but they successfully played it off like they didn't know each other.
The HGs got to know one another and Julie welcomed them to Camp BB, surprising them with an immediate twist: having to elect a Camp Director. The Camp Director would be safe for the first week as well as have "unprecedented power."
Before the vote,
Cliff
,
David
,
Jessica
, and
Jackson
campaigned for the role. The house seemed divided between Jackson and Jessica.
The HGs voted anonymously for Camp Director, which Jackson won
. Julie then revealed that along with a week of safety as Camp Director, Jackson will have to banish four Houseguests to the
Big Brother
Wilderness.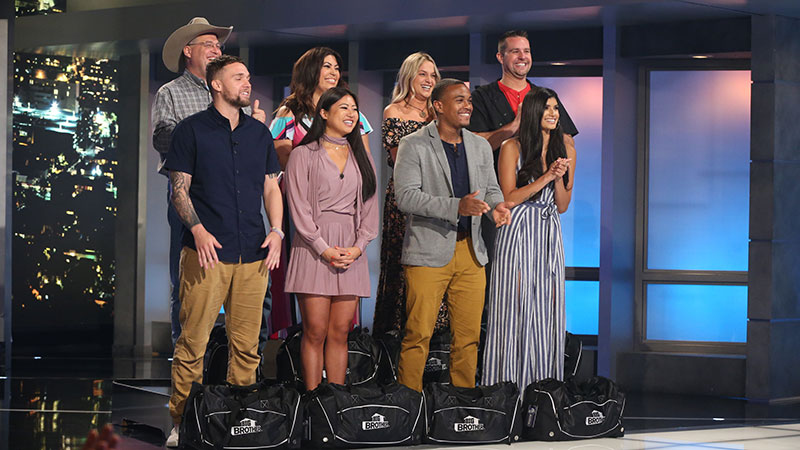 The four banished HGs will then compete for their place in the game, which means one HG will not even make it to the first eviction!
Watch all-new episodes of
Big Brother
21 on Tuesdays, Wednesdays, and Sundays at 8/7c on CBS and
CBS All Access
.
Then, starting Wednesday, July 10,
Big Brother
will move to 9/8c on Wednesdays and Thursdays with the Sunday show remaining at 8/7c. Starting August 14,
Big Brother
will move to 8/7c on Wednesdays.
Finally, be sure to check out the
Big Brother Live Feeds
—exclusively available through
CBS All Access
—when they start rolling after the West Coast air of Wednesday's episode on June 26 around 9 PM PT / 12 AM ET.